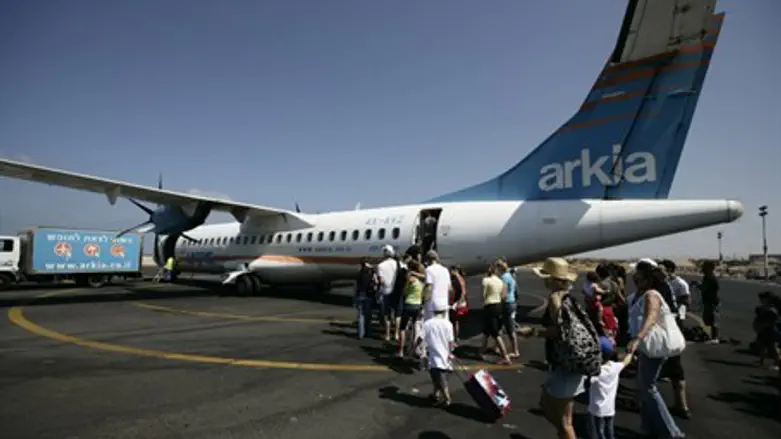 Arkia plane at Eilat airport (illustrative)
Flash90
Gaza Arab terrorists continued firing rockets at Israel Thursday night, with a rocket fired at Eilat. The Iron Dome system intercepted the rocket. No one was injured and there was no damage from the resulting shrapnel.
It's possible the terrorists ware aiming not for Eilat, but for the Ovda Airport outside the city, where some international flights had been rerouted after the US Federal Aviation Administration banned US airlines from flying to Ben Gurion Airport. Hundreds of flights were canceled as European airlines followed the FAA's lead.
In response, the Transport Ministry opened Ovda to accommodate planes, especially those that had been flown out to destinations in Europe to allow Israelis to return home. On Thursday, the FAA rescinded the ban.
Hamas earlier Thursday said that the FAA ban was "a great victory." Israel security officials said that it was likely that Hamas was aimong for Ovda in order to get flights banned from there as well.
The rocket Thursday night was just one of several fired during the day by Gaza Arab terrorists at Israeli targets Most of the rockets fell harmlessly in open spaces, while about 12 were shot down by the Iron Dome system over Tel Aviv, Rishon Lezion, Ashdod, Beersheva, and Sderot. There were no injuries directly attributed to the rocket fire. A barn near Sderot was directly hit by a rocket, with dozens of cows suffering serious injuries.