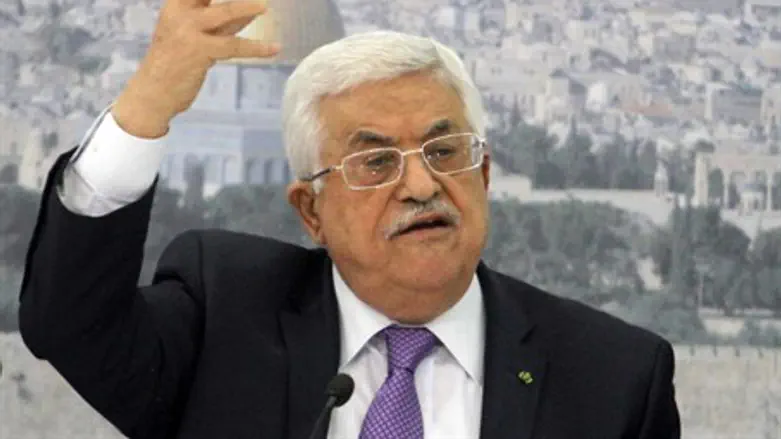 Mahmoud Abbas
Flash 90
Arab and international human rights organizations sent a joint letter to Palestinian Authority (PA) Chairman Mahmoud Abbas on Thursday, urging him to put PA-controlled areas of Judea and Samaria under the International Criminal Court's (ICC) jurisdiction.
In the letter, the groups urge Abbas "to ensure that Palestine pursues the jurisdiction of the ICC by promptly acceding to the Rome Statute and/or filing a further declaration accepting the Court's jurisdiction over crimes committed on Palestinian territory from 1 July 2002," according to the Amnesty International Website.
Applying for international jurisdiction "could ensure access to international justice for victims of war crimes and crimes against humanity committed on Palestinian territories," wrote the organizations.
The letter added that "Palestine's accession in April to 20 international treaties and conventions was a significant and positive step," referencing the PA's breach of peace talk conditions by applying to 15 international conventions, which along with the unity deal with Hamas spelled the death toll of the peace talks. 
Signers of the letter included representatives of various Arab humans rights organizations, as well as the secretary general of Amnesty International, the executive director of Human Rights Watch, and the president of the International Federation for Human Rights (FIDH).
Breaching conditions in unilateral moves
The Palestine Liberation Organization's (PLO) central council last Sunday adopted a plan to join 60 United Nations (UN) bodies and international agreements. In early April, the PA threatened to join up to 550 international treaties and conventions, including the ICC.
However, former ICC chief prosecutor Luis Moreno-Ocampo on Wednesday warned that while the PA is indeed eligible to join the ICC after being accepted as a non-member observer state at the UN in 2012, such a move might backfire.
Moreno-Ocampo noted that if the PA accepts the ICC's jurisdiction, Gaza's Islamist Hamas rulers also could be investigated for rocket fire and suicide bombings against Israeli civilians.
Shurat Hadin, a non-governmental organization that operates against terrorists through the courts, has warned it would launch 'a tsunami' of criminal complaints against senior PA officials, should the PA go through with its application to join the ICC