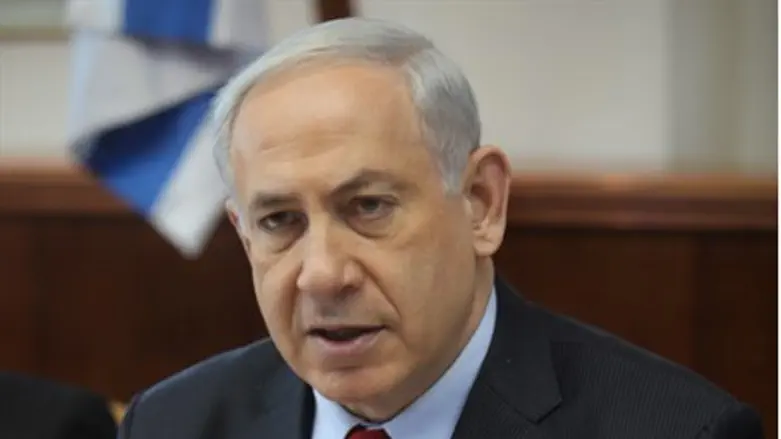 Prime Minister Binyamin Netanyahu
Flash 90
During a six-hour security cabinet meeting on Thursday, ministers decided to respond to the Palestinian Authority's (PA) unity deal with Hamas, reached on Wednesday, by suspending the peace talks ahead of their April 29 deadline.
Further, it was decided to implement various sanctions on the PA, such as financial sanctions, and the cutting of diplomatic contact including that of the peace talks.
Sanctions were taken against the PA earlier in the month in response to its breach of talk conditions by applying to join 15 international conventions. Those sanctions put a near end to diplomatic contact, but not concerning the peace talks or the Defense Ministry. They were followed by a freeze on transfers of taxes gathered by Israel for the PA.
At the end of the meeting Thursday, Prime Minister Binyamin Netanyahu said that PA Chairman Mahmoud Abbas, "instead of choosing peace...formed an alliance with a murderous terrorist organization that calls for the destruction of Israel."
Netanyahu noted that Hamas's "covenant calls for Muslims to fight and kill Jews. Hamas has fired more than 10,000 missiles and rockets at Israeli territory and has not halted terrorist actions against Israel even for a minute."
The PA-Hamas treaty was signed as Israel "is making efforts to advance the talks," remarked Netanyahu, calling it a continuation of "Palestinian refusal" to advance the talks which were exemplified last month when Abbas refused the framework principals offered by the US.
Abbas also adamantly refused to recognize Israel as the Jewish state throughout the course of the talks, reminded Netanyahu. He added that the unilateral application to international conventions was a breach of the talk conditions, and was followed by the treaty with Hamas.
"Whoever chooses the terrorism of Hamas doesn't want peace," declared Netanyahu.
Speaking to NBC afterwards, Netanyahu stated "I think that what has happened is a great reverse for peace, because we had hoped that (Abbas) would embrace the Jewish state, the idea of two nation states, a Palestinian one and a Jewish one."
"But instead, he took a giant leap backward, and made a pact with Hamas -- a terror organization that calls for Israel's destruction," added Netanyahu, saying the unity deal "kills peace."
Earlier on Thursday a senior US administration official warned that America would reconsider its financial aid to the PA, if a new Fatah-Hamas unity government is formed. The US had pledged the PA $440 million in 2014, up from $426 million the previous year.