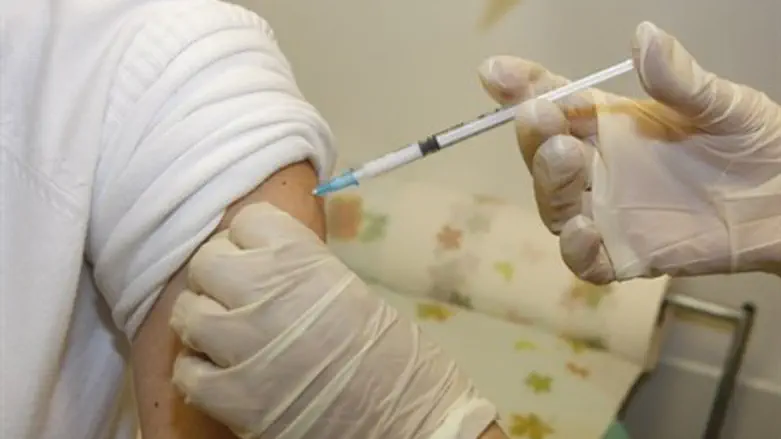 Flu vaccine
Flash90
Medical experts warned the public Thursday night that fever and cold-like symptoms signify another violent flu outbreak traveling across Israel, according to Ma'ariv. 
"This virus is especially violent, especially since the public is under the impression that we're talking about a few days of fever-like symptoms and that's it," Dr. Tzahi Grossman, Secretary General of the Pediatric Association noted to the daily. "This impression is incorrect, and crops up again year after year."
"This is a virus which could potentially become severe," he clarified.
The medical professional noted that Israeli doctors have been treating the virus as a flu outbreak. "If you look at flu outbreaks during this time of year over the past several years, you see similar symptoms. . .all of them have claimed lives." 
As of Thursday night, at least five patients were being hospitalized at Ichilov Hospital in Tel Aviv due to complications from the influenza outbreak. Four of the patients are over 80 and being treated in different departments in the hospital; one is a 25 year-old woman, who has been treated in the Intensive Care Unit (ICU) for the past several days. 
On Sunday, four year-old Guy Zeidan died of flu complications after he was admitted to the emergency care center showing signs of organ failure. A medical team attempted to revive him unsuccessfully; the staff speculate that he was suffering from heart failure or septicemia due to the virus. 
A 15 year-old boy from central Israel was also admitted to the ICU Wednesday after showing similar symptoms of multi-system organ failure. Like Zeidan, the boy had suffered from common flu-like symptoms before collapsing.  He was rushed to Sheba Medical Center in Tel HaShomer; he is being treated in the ICU in isolation and is currently on a respirator.
"He is in very critical condition, and he has even worsened slightly since he was admitted here," Professor Asher Barzilai, director of Safra Children's Hospital stated Thursday. "It is impossible for him to be sicker than he is now."  
Common complications of the flu include an ear infection, sinus infection, muscle aches, fatigue and sore throat. More serious complications include pneumonia, inflammation of the brain and heart - like Zeidan and the teenager suffered.  
"Their complications are very rare," admitted Barzilai. "We urge the public to get vaccinated." According to Barzilai, only 18 percent of the population has been vaccinated so far. 
Last month, a 38 year-old woman was hospitalized in critical condition at Rambam Medical Center in Haifa with a variety of "swine flu."
"The woman was suffering from multiple comorbidities, and [the flu was] probably contracted from one of her family members," Rambam hospital stated at the time.