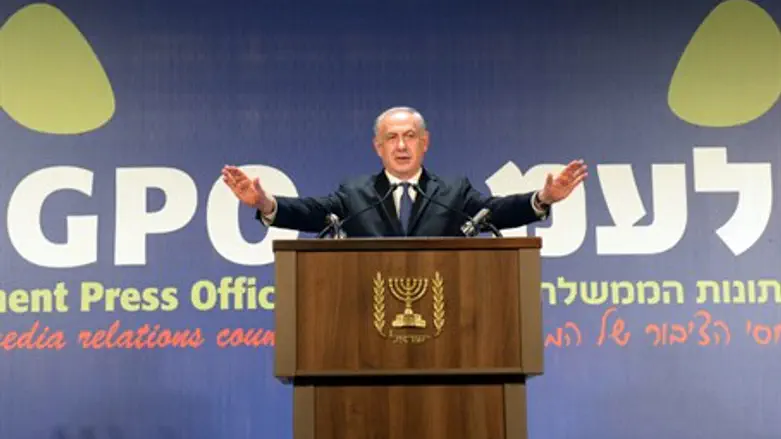 Prime Minister Binyamin Netanyahu (illustrati
Flash90
Labor MK Nahman Shai launched harsh criticism against Prime Minister Binyamin Netanyahu Friday, after the Prime Minister slammed Europe's decision to summon envoys over Israel's construction in Judea, Samaria and Jerusalem.
"[Netanyahu's] government is waging war on the world," Shai claimed, in a Kol Yisrael radio interview. "At the beginning of the week it offended the US and by the end of the week it offended the European Union (EU)." 
Shai referred to two separate incidents this week. On Monday, Defense Minister Moshe Ya'alon called US Secretary of State John Kerry "obsessive" and "messianic" in his quest for obtaining peace, sparking a public row with the US; Ya'alon later apologized.
While the US reportedly expected a public condemnation from the Prime Minister over the brouhaha, Netanyahu's response was less than a condemnation and more of a light rebuke. "Even when we have disagreements with the United States, it is about the matter at hand and not about the person," Netanyahu said in a Knesset session.
On Thursday, Netanyahu slammed the EU over its insistence on calling in Israeli ambassadors to explain the continued construction in Judea and Samaria - but not on the Palestinian Authority (PA) to explain its mounting incitement to terror in the wake of talks.
"This is hypocrisy," Netanyahu stated. "The EU calls our ambassadors in because of the construction of a few houses? When did the EU call in the Palestinian ambassadors about incitement that calls for Israel's destruction?" Netanyahu asked foreign correspondents at his annual new year reception.
"It's time to stop this hypocrisy," he said. "This imbalance... doesn't advance peace, I think it pushes peace further away."
Shai, for his part, claimed that Netanyahu's protection of Israel's right to sovereignty over the region does not protect Israel's future interests. 
"There is no connection between construction in Judea and Samaria and Palestinian [Authority] incitement," Shai claimed. "Israel is isolating itself and sacrificing the future for the sake of 'settlements' - most of which it will withdraw from in the future." 
Shai also denied reports that the US supports the new construction. "Washington has been against building 'over the Green Line' for over 20 years now," he claimed.