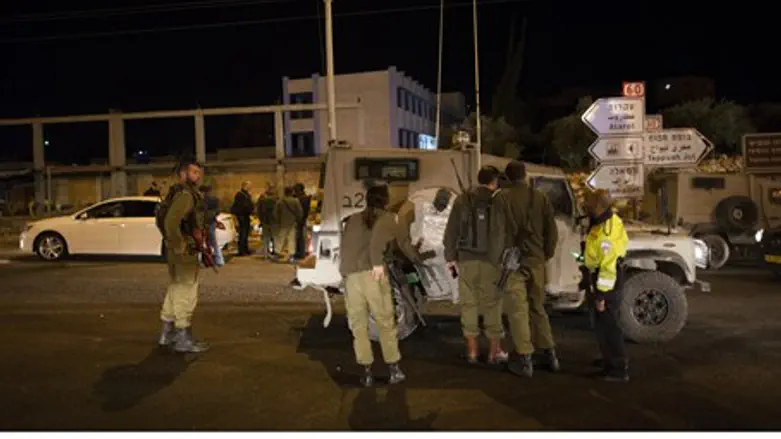 Site of stabbing at Adam checkpoint
Flash 90
The stabbing attack Monday outside the town of Adam, north of Jerusalem, did not come as a surprise to locals, local council head Babar Vanunu told Arutz Sheva.
Police officer Rami Ravid was stabbed in the back by a terrorist as he stood directing traffic at the notoriously jammed traffic circle at the Adam checkpoint.
Everyone who lives in the area is familiar with the daily traffic jams and the risks they pose, Vanunu said. However, he said, the government has yet to take the steps needed to fix the problem.
"The people living here are being held hostage to a conflict between the Transportation Ministry and the Finance Ministry," he reported.
When the Housing Ministry marketed homes in the region, they told potential residents that a bridge would be built to allow fast travel to Jerusalem, he said. In reality, nothing has been done to solve the transportation problems that are choking the community, he accused.
"The population here is being mistreated. The Palestinians are cursing the situation, too," he said. He noted that Israeli Jews and Palestinian Arabs recently held a joint protest calling for a solution to the problem.
"The police tried to help, and look what they got – a knife in the back," he lamented.
The situation has turned Adam junction into a dangerous area where car thieves and others prey on drivers, he said.
Vanunu noted that he has no complaints against Binyamin Regional Council head Avi Roeh or Transportation Minister Yisrael Katz. "Minister Katz is ambitious, he has many ideas for improving the situation, but apparently his hands are tied, too," he concluded.