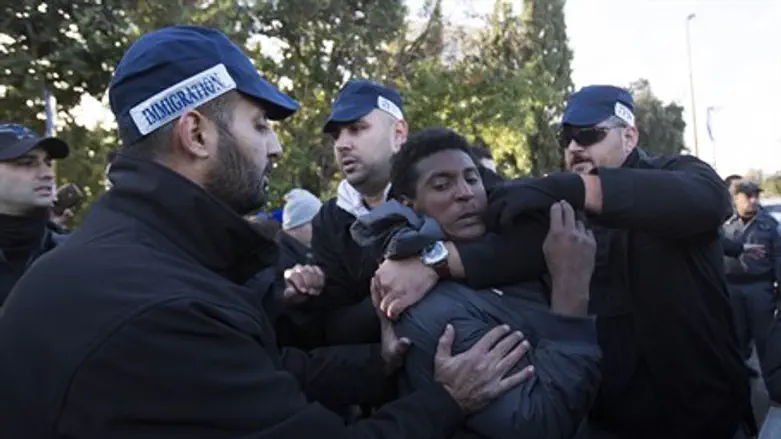 Illegal entrant arrested at rally
Israel news photo: Flash 90
Roughly 200 illegal entrants to Israel protested in Jerusalem on Tuesday after being ordered to reside in a new facility in southern Israel. Protesters said the open facility, which they must return to each night, is essentially a prison. Many accused the government of racism.
The illegal entrants argued that they should be given refugee status. Those illegal entrants who Israeli authorities recognize as refugees are allowed to work in the country and are eligible for benefits.
Most of the roughly 60,000 illegal immigrants from Africa currently living in Israel do not have refugee status. Nearly 500 of them have been ordered to spend nights in the Holot facility in southern Israel for up to one year under a new law aimed at cracking down on illegal entry.
Police dispersed the rally. There were clashes between police and protesters; according to AFP, two protesters were injured.
Yonatan Yaakovich, the head of PR for Israel's immigration policy, expressed frustration over the rally. "The illegal entrants and the NGOs helping them are treating Israeli law and democracy with contempt," he accused.
"We think that this law is definitely proportionate. It took the Supreme Court ruling from three months ago into consideration," he continued, speaking to Arutz Sheva.
"This was a demonstration of derision for the citizens of Israel, for Israeli democracy… I hope the government will uphold the law," he said.
When asked whether it was the NGOs or the illegal entrants themselves who initiated the rally, Yaakovich said it is not clear, but added, "Without significant assistance [from NGOs] it would not have happened."
The NGOs in question have opposed every effort to return illegal entrants to their countries of origin, he said, and even encourage them not to cooperate with the government's programs. "So I wouldn't be surprised if there was significant involvement here, too," he concluded.