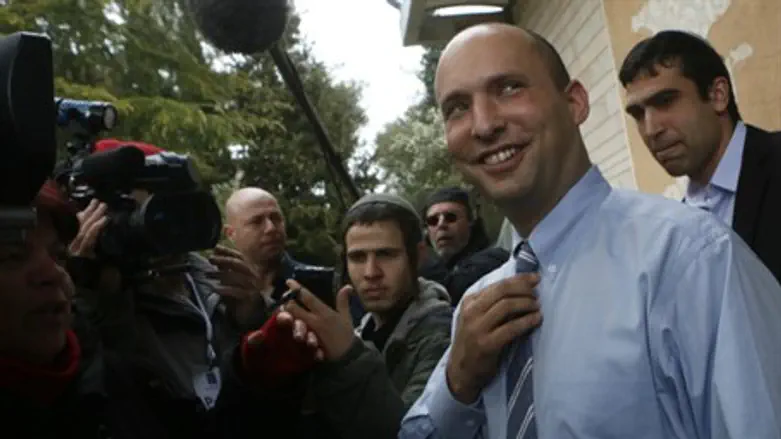 Naftali Bennett
Israel news photo: Flash 90
Victory for Bayit Yehudi (Jewish Home): a poll of the party's supporters reveal that 88% are satisfied with the steps taken by party chairman and Economics Minister Naftali Bennett, including his handling of last week's release of 26 convicted terrorists into Judea, Samaria, and Gaza. Only 12% of respondents deemed the move "terrible" relative to the party's platforms. 
In addition, 62% of those polled believe Bennett's version of the vote which decided the release, which was revealed to be a decision that had already been made by Prime Minister Binyamin Netanyahu before the PM approached Bennett for feedback. Only 15% believe the official version of events, which claim that Bennett voluntarily voted for the release in exchange for continued building in Jewish areas of Judea and Samaria. 
The poll was conducted by the Panels segment for the Knesset Channel yesterday (Monday). Latest results reveal that if national elections were to be held today, Bayit Yehudi would hold 16 seats - up from the current 12. 
The Panels staff, who conducted the poll, were surprised by the results. "Bennett clearly knows what he's doing," one staff member said. "The results prove that." 
Other public figures expressed equal shock. Journalist Sefi Ovadiah stated that he thought "Bennett would suffer a blow due to last week's terrorist release - I was mistaken." Publicist Tal Ashkenazi admitted that the data "surprised" her. 
The vote is equally surprising in light of last week's all-out attack by other Knesset members on the party, in waves which MK Ayelet Shaked deemed "incitement." 
Other questions revealed that 66% don't agree with sentiments by HaTnua MKs stating that Bennett needs to decide whether or not to stay in the current government, and that Bayit Yehudi supporters prefer the pact with Yesh Atid, garnering 33% of positive responses toward the agreement. A pact with Hareidi parties, by contrast, only found hope with 25% of Bayit Yehudi supporters. 
Poll results from the general public revealed a near 50-50 split between possible motives to vote for Bayit Yehudi, with 52% citing the party's political platforms and 46% favoring their traditional Jewish values. Bayit Yehudi supporters, in turn, admitted that Bennett's success in the high-tech business made him 55% more suitable a candidate to lead the party, in their view.
28% of the public views Bennett as the most relatable party Chairman from the current selection of Bayit Yehudi Knesset ministers. MKs Uri Orbach and Ayelet Shaked recieved 17% of that vote, Housing Minister Uri Ariel - 13%, MK Orit Struk - 10%, and MK Nisan Slomiansky - 5%.