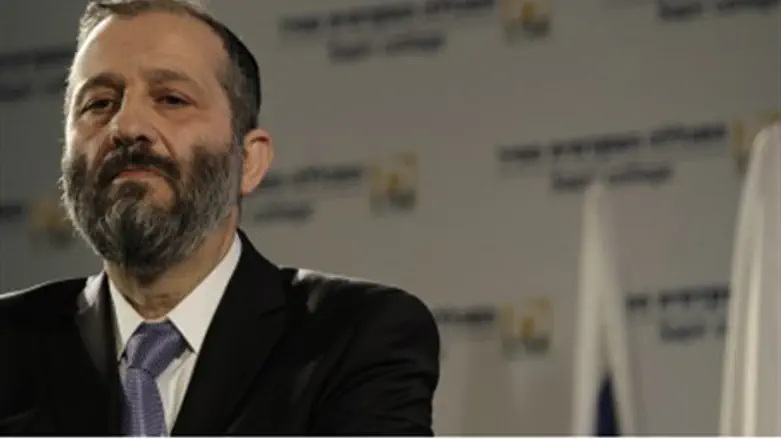 Aryeh Deri
Israel news photo: Flash 90
Aryeh Deri, head of the Shas political party, has expressed his devastation at the passing of Rabbi Ovadia Yosef - the spiritual leader of the party and one of the leading halachic (Jewish legal) authorities of the generation.
Rabbi Ovadia Yosef was pronounced dead by cardiologist Professor Dan Gilon at 1.30pm on Monday.
Speaking to the Kol Hai radio station, Deri said: 
"The sun has gone, we are orphans. A few minutes ago our father died, every day I was hoping to tell you we were taking him home healthy." He continued through a flood of tears: "How will we live, who will lead us? "
Deri continued, "I want to thank the doctors and all of the medical team who worked so hard to save him, it is so sad that they weren't successful".
"I want to thank all of the Jews who have prayed and wept - we don't know what has happened to these prayers and where they stand in heaven."

An emotional Eli Yishai, MK and former Head of Shas, was also given a microphone to speak, but was unable to speak through his tears.
Former Sephardic Chief Rabbi Shlomo Amar: " A very difficult day"
Former Sephardic Chief Rabbi Shlomo Amar has said also spoken of the loss of the generations most prominent religious leader.

He said, "Today is a very difficult day, the day we have lost the crown of our heads – we have lost an outstanding leader that even many generations before us did not merit." He added, "We have lots the greatest leader of the generation in prayer, in Jewish law, in how to behave,  we have no-one to turn to."
Chief Rabbi David Lau: Rabbi Yosef "a Living Sefer Torah"
Also speaking to the Kol Hai radio station, Chief Ashkenazic David Lau, has described Rabbi Ovadia Yosef as a "living Torah scroll."
"I had been scheduled to attend the consecration of a new Torah scroll this morning when I was told to rush to the hospital," he said, adding "instead of introducing a new Torah scroll to the world, we are saying goodbye to a living Torah scroll."
"So many people prayed and showed such love for him in a huge out pouring, they wanted him to return, but they didn't succeed," he lamented.
Funeral

The funeral for Rabbi Ovadia Yosef has been fixed for 6 O'Clock this evening - with the procession beginning at Rabbi Ovadia's Porat Yosef yeshiva (religious academy) in the Geula neighborhood of Jerusalem. The funeral will travelling through the streets of the Malchei Yisrael (Kings of Israel) neighborhood, including Shmagar, Yeremyahu and Bar Ilan reaching the Sanhedria cemetery later Monday night.  

Rabbi Yosef will be buried in the cemetery of the Sanhedria neighborhood next to his late wife, Margalit, who died 16 years ago. 

The funeral is expected to draw tens of thousands. Police have asked members of the public planning to attend the funeral from outside of Jerusalem to only travel by public transport to avoid the city being brought to a complete standstill.

Leading Ashkenazic halachic authority Rabbi Aryeh Leib Shteinman, has called on all Torah students from across the country to attend the funeral to show their respect for Rabbi Ovadia Yosef.

Rabbi Ovadia Yosef

Maran (our rabbi and mentor), as he was called reverently by his followers, was  the Sephardic Chief Rabbi (Rishon Letzion) of Israel from 1973-1983, a world recognized Talmudic scholar with a photographic memory, foremost halakhic authority and master orator. He served as the spiritual leader of the Shas political party since founding the party in 1982.
He was referred to as the Posek HaDor ("Torah Arbiter of the present Generation"), Gadol HaDor ("greatest one of the generation") and Ma'or Yisrael ("The Light of Israel").
Rabbi Yosef's halakhic responsa are highly regarded within Orthodox circles and are considered binding in Mizrahi communities (those hailing from the Middle East, northern Africa and the Mediterranean), among whom he was regarded as "the most important living halakhic authority."