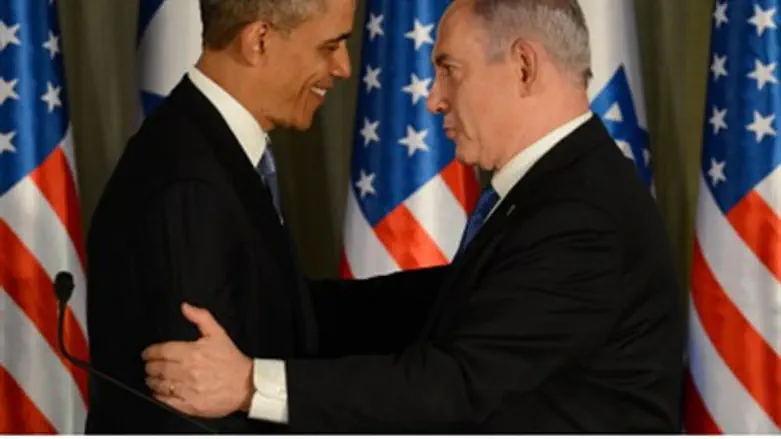 Netanyahu embraces Obama
Israel news photo: Flash 90
A prolonged U.S. federal government shutdown could delay military assistance to Israel, the State Department warned on Wednesday.
"The State Department's ability to provide military assistance to Israel and other allies in the time frame that is expected and customary could be hindered, depending on the length of the shutdown," State Department deputy spokeswoman Marie Harf told reporters.
Harf only specifically mentioned Israel, which is the largest recipient of U.S. foreign military funding.
The Obama administration had requested $3.1 billion for Israel for the 2014 fiscal year that began on October 1, the day U.S. political stalemate forced a partial shutdown of government.
Israel several months ago expressed concern over the possibility of a cut in the U.S. defense aid, during a previous crisis between Democrats and Republicans regarding the debt crisis.
However, during his visit to Israel last March, Obama made clear that despite a budget crunch in Washington there would be no interruption to funding of Israel's Iron Dome anti-missile system.
Obama also said during the visit that Israel and the United States were opening talks on extending U.S. military aid to the Jewish state beyond the end of the current agreement.