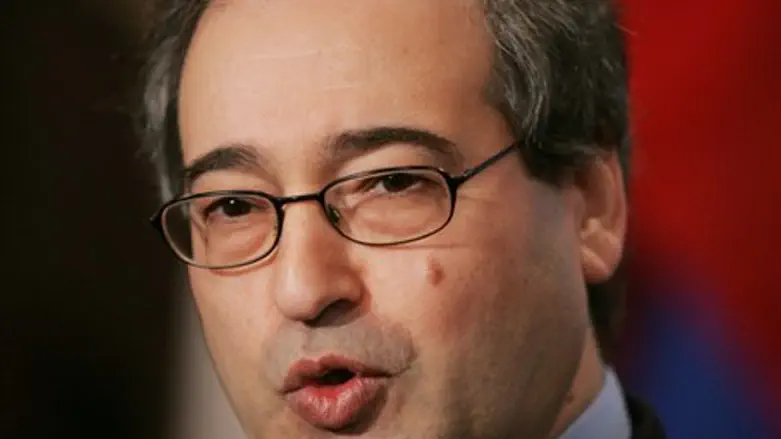 Faisal Mekdad
Reuters
Syria said Wednesday it was mobilizing its allies against a possible U.S.-led military strike over a suspected gas attack and would never give in, even if a third world war erupts.
In an exclusive interview with the AFP news agency, Syria's Deputy Foreign Minister Faisal Muqdad said Syria had taken "every measure" to retaliate against a potential strike, but refused to provide any clue as to what that might mean.
He insisted that Russia had not wavered in its support for its long-time ally, despite comments by President Vladimir Putin suggesting a more conciliatory tone towards the West. Putin said in an interview Wednesday that his country may support a UN resolution on punitive military strikes in Syria if it is proved that Damascus used poison gas on its own people.
"The United States is currently mobilizing its allies for an aggression against Syria," Muqdad told AFP, adding that Damascus was therefore doing the same and that its allies were "offering it all sorts of support."
"Iran, Russia, South Africa and some Arab countries have rejected this aggression and are ready to face this war that the United States and its allies, including France, will declare against Syria", he said, without elaborating.
"The Syrian government will not change position even if there is World War III. No Syrian can sacrifice the independence of his country," declared Muqdad.
The comments come as U.S. President Barack Obama is busy trying to convince Congress to approve a strike against the regime of Bashar Al-Assad in retaliation for a suspected deadly poison gas attack on August 21.
France is pushing, along with the United States, for military strikes, with President Francois Hollande having said "this crime cannot remain unpunished."
The French parliament was debating the issue on Wednesday, and Muqdad lashed out at Paris, saying its stand on Syria was "shameful."
"It's shameful that the French president... says 'if Congress approves, I go to war, otherwise I won't go', as if the French government had no say in the matter," Muqdad told AFP.
Regarding Russia and Putin's comments, Muqdad stressed that Moscow had not wavered in its support of Damascus.
"The Russian position is unchanged; it's a responsible position of a friend that is in favor of peace," he said.
Syrian leaders have talked tough since the West began hinting that it would strike in Syria in retaliation for the August 21 chemical attack, which the U.S. said killed more than 1,400 people, including some 400 children.
Assad challenged the United States and France on Monday to produce proof that his regime attacked civilians with poison gas, warning in an interview that any military strikes against Syria would risk triggering a regional war.
"The Middle East is a powder keg, and today the flame is coming very near. We cannot talk merely about the Syrian response, but about what might take place after the first strike. But nobody knows what will happen. Everyone will lose control of the situation when the powder keg explodes. Chaos and extremism will spread. There is a risk of regional war," Assad told the French newspaper Le Figaro.
Despite the threats, reports have indicated that the Syrian government has moved its political offices to schools and universities to seek safe haven in case of a military attack by the West.
One report said that Assad was in an underground bunker at an unknown location, which serves as an operational headquarters in advance of the U.S. attack on Syrian targets.
(Arutz Sheva's North American Desk is keeping you updated until the start of Rosh Hashanah in New York. The time posted automatically on all Arutz Sheva articles, however, is Israeli time.)