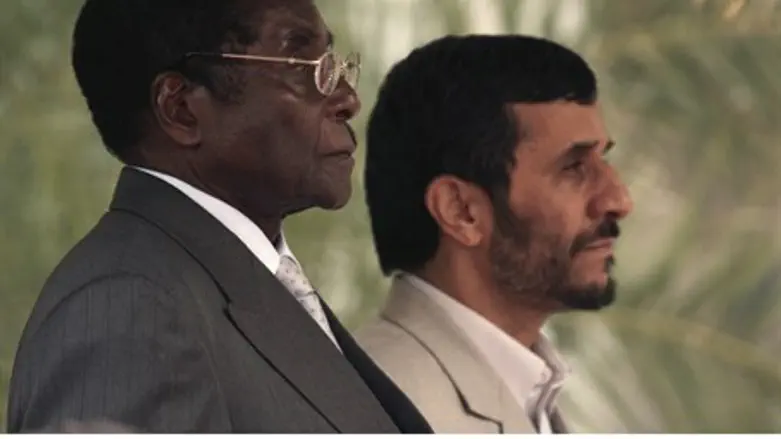 Zimbabwean Pres. Robert Mugabe with former Ir
Reuters
Zimbabwe on Sunday denied that it had made a deal with Iran to sell the radical Islamist country uranium, or to give it an interest in Zimbabwean uranium mines. In a statement, a government official said on state radio that the reports in the British media that such a deal had been signed were a
"malicious lie."
The report on the deal appeared in the Times of London last week. The report cited Zimbabwe's Deputy Prime Minister, Gift Chimanikire, as saying that such an agreement existed, and that he had seen it. He also said that Zimbabwe would be selling diamonds to Iran as well.
Chimanikire later said that he had been misquoted, and demanded that the Times retract the statement, which the paper has refused to do so far. On Sunday, the government said that police were searching for two British reporters who had been involved in filing the stories. When they are found, the report said, they will be charged with libel.
Earlier, Chimanikire said that Zimbabwe had made the deal with Iran because both countries were under sanctions from the U.S. The U.S., along with most of Europe and other western states, imposed sanctions on Iran due to Tehran's refusal to open its nuclear program for inspection, and sanctions were imposed on Zimbabwe in 2002 over ongoing human rights abuses by the country's longtime dictator, Robert Mugabe.