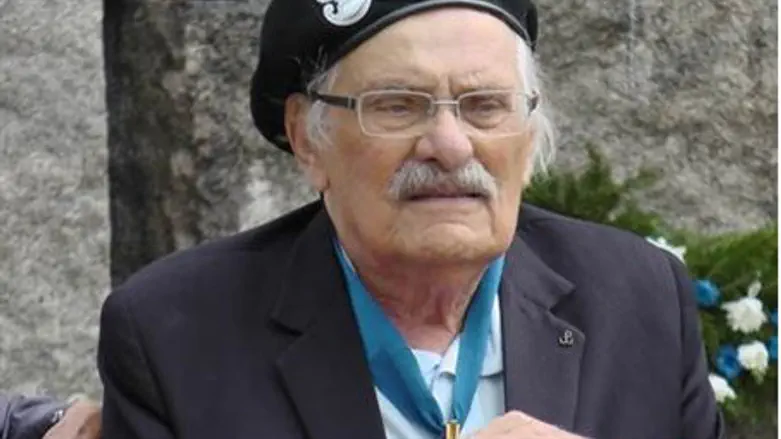 Shmuel Vilenberg
Israel news photo: Hezki Ezra
Shmuel Vilenberg, the last living survivor of the Treblinka death camp, took part in a ceremony marking 70 years since the Treblinka rebellion.
Vilenberg was 20 when the camp was liberated. Despite his advanced age, he continues to tell his story to youth groups and IDF soldiers in order to pass on testimony from the Holocaust.
He spoke to MK Avi Wortzman (Bayit Yehudi) during the ceremony. "I feel good," he related. "It's hard to walk, but I'm still walking."
"I'm a Polish hero," he continued. "In Israel I'm not a hero, they have different heroes there," he added with a cynical smile.
He was briefly thrown off when a foreign journalist approached to ask him what his connection was to Treblinka. "What does that mean, how am I connected to Treblinka?" he asked in Hebrew.
"I woke up in the hotel in the morning and said, 'Let's go to Treblinka,'" he told the journalist, who preferred not to ask further questions.
Vilenberg explained how he survived the death camp. "I was here for ten months, and they ordered me to work on the fences. There's no doubt that the job saved my life," he said.
His hope, and his parents, gave him strength to continue, he said.
"Treblinka is just 130 dunams, and they murdered and destroyed almost a million people here. They didn't count the children, but children are people, too," he began.
"After the rebellion I ran because I knew where I was going, I knew I had a father and mother in the Warsaw ghetto and that gave me strength.
"There were 67 Jews from here left after the war," he added.
His wife said, "My husband tells his story here in Treblinka, in the heat and the cold. I see the youth listening to him, emotional every time.
"Now the historians are coming and telling their story – but it's not the same thing. It's important that there be a center where they see first-hand documentation, with pictures and documents on what the Jews went through in Treblinka," she urged.