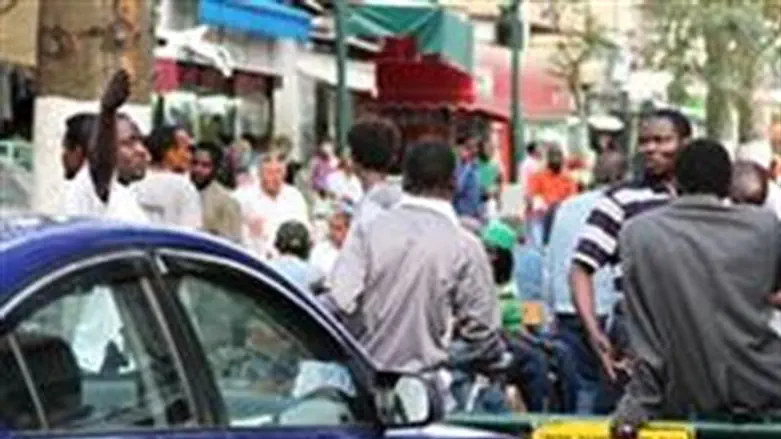 Illegal immigrants in Tel Aviv
Israel News photo: Flash 90
A report about the alleged rape of a 5-year-old boy may have been a hoax.
According to a report that appeared on Kochav Ha'ir, a website that carries news from the port city of Ashdod, a Sudanese man is suspected of raping a 5-year-old boy in the men's room in the local Simol mall. The report has been deleted from the website, however.
The website reported that the boy and his mother were in the mall Wednesday and the boy asked to go to the bathroom. The mother took him to the men's room and remained outside the door. When he took too long to come out, she entered and found him unconscious and injured.
Police have not confirmed or denied the report.
According to police reports, Sudanese and Eritrean illegal immigrants are involved in a disproportionately high number of crimes, including sexual crimes. The latest attack by Eritreans against Jews took place in Tel Aviv eight days ago, when a group of Eritreans pulled a Jew out of his car for no known reason and beat him unconscious in front of his wife and children.
Leftist groups are involved in fighting for the rights of Sudanese and Eritrean immigrants, and have been doing all they can to prevent their repatriation, although residents in the areas populated by the immigrants have been pleading to rid them of the presence of this population, and explaining that they do not feel safe in their own neighborhoods. The leftist struggle for the African immigrants, which includes the organization of marches, appears to be part of a strategy of creating social chaos that serves their anti-Zionist agenda.