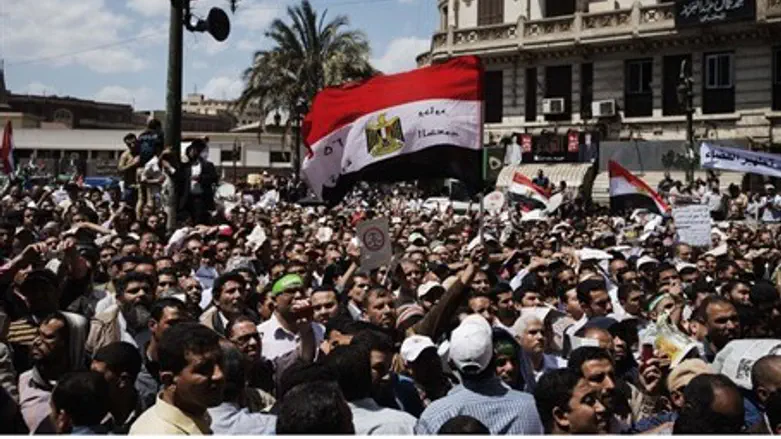 Muslim Brotherhood supporters protest in fron
AFP photo
Arrest warrants were issued on Wednesday for nine Muslim Brotherhood officials in Egypt, including leader Mohammed Badie, CNN reported, citing Egypt's official news agency.
General prosecutor Hisham Barakat ordered the leaders' arrests for "ordering armed groups to cut off highways and threaten violence in the city of Qalyub, spreading violence and damaging public interest," the MENA news agency reported.
According to Egyptian state media, Badie is charged with incitement to violence.
The warrants come two weeks after Egyptian prosecutors called for the arrest of Badie, perhaps because of recent calls for an "uprising" by the Muslim Brotherhood, following the killings of more than 40 protestors outside the facility where Morsi is being held.
Earlier Wednesday, Gen. Abdel Fattah al-Sissi, the head of Egypt's military, called for mass demonstrations Friday to support the country's armed forces.
The call comes in response Muslim Brotherhood calls for mass protests of its own and lingering tensions nationwide spurred by the July 3 military coup that deposed president Mohammed Morsi.
The official Facebook page of Tamarod, the anti-Morsi protest movement, called on its supporters to heed the armed forces' call for protests, according to CNN.
"We call on all the Egyptian people to gather in all the squares next Friday to call for the trial of Mohammed Morsi, support the Egyptian armed forces in the coming war against terrorism and cleansing the land of Egypt. The army and the people will fight terrorism," the statement said.
Dozens of people have reportedly been killed and thousands injured since Morsi's ouster, some of them in confrontations with authorities and others in clashes with those on the other side of the political spectrum.