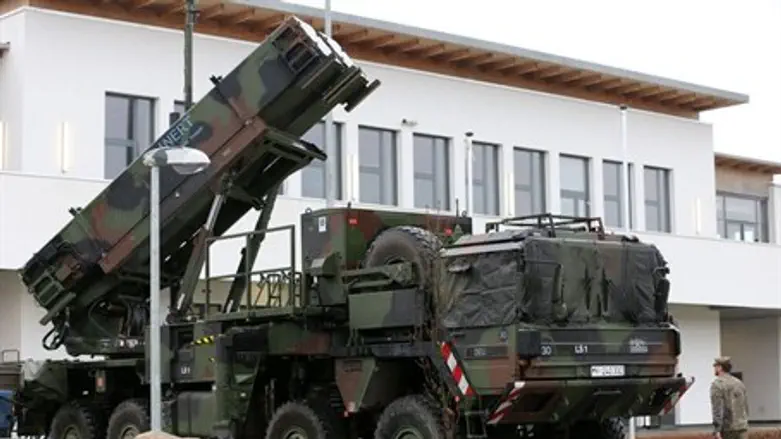 Patriot missile
AFP photo
The United States will send a Patriot missile battery and F-16 fighters to Jordan for a military drill and may keep the weapons there to counter the threat posed by Syria's civil war, officials said Monday, according to the AFP news agency.
The Patriot missile launchers and F-16 warplanes "were approved for deployment to Jordan as part of Exercise Eager Lion," said Lieutenant Colonel T.G. Taylor, spokesman for U.S. Central Command based in Tampa, Florida.
"In order to enhance the defensive posture and capacity of Jordan, some of these assets may remain beyond the exercise at the request of the Government of Jordan," Taylor said in a statement quoted by AFP.
U.S. officials declined to say how many F-16 fighter jets would be taking part in the joint exercise or how many aircraft might stay in Jordan afterwards.
The United States backed a similar move earlier this year in Turkey, with the NATO alliance deploying Patriot missile batteries along Turkey's volatile border with Syria.
That move was condemned by Syria, which said that Turkey's plans to deploy Patriot missiles along its border are "a new act of provocation."
Syria's ally Iran also condemned the move, claiming that the deployment of Patriot missiles in Turkey is designed to protect Israel from Iranian threats.
The deployment of a Patriot anti-missile battery in Jordan comes after warnings from Washington to President Bashar al-Assad's regime against shipping advanced missiles to Hizbullah terrorists in Lebanon. Hizbullah is now openly taking part in the civil war alongside Assad's troops.
The decision to possibly station F-16s and missile batteries in Jordan will fuel speculation on a potential U.S. military intervention, which the White House so far has described as a remote possibility.
"Given our strong alliance with Jordan and in light of circumstances in the region and escalating violence along Jordan's borders, if requested, some (weapons) may remain beyond the conclusion of the exercise to assist the Jordanian armed forces," said State Department spokeswoman Jen Psaki, according to AFP.
"But no decision has been made yet on that," she told reporters.
A report last week indicated that the White House has asked the Pentagon to draw up plans for a no-fly zone inside Syria that would be enforced by the U.S. and other countries such as France and Great Britain.