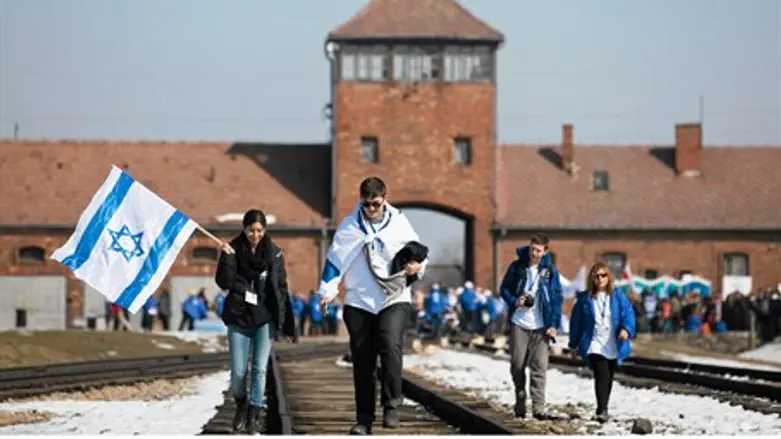 Jews carry Israeli flags as they walk through
Reuters
The Dutch anti-Semitism watchdog organization CIDI (Center for Information and Documentation on Israel) has filed a complaint with the Dutch Court following light punishment by the Dutch Prosecutor's Office for anti-Semitic remarks and praise by Dutch Turkish youths for Hitler and the Holocaust.
The move came after death threats followed a televised interview that featured the four youths expressing their views to volunteer community worker Mehmet Sahim in the Dutch town of Amhem.
Sahim has since been forced into hiding after the youths expressed praise for the Holocaust, Hitler and the murder of Jewish babies in the interview, broadcast in February on Dutch television.
The prosecutor's office of the Dutch Ministry of Justice found that only one, a 15-year-old youth, had committed a crime by making unlawful anti-Semitic remarks, saying he hated Jews and that "I am satisfied with what Hitler did to the Jews."
The teen admitted to police his remarks were unacceptable and offered an apology, said the prosecutor's office, which meted out an "educative punishment" requiring him to work with an organization that fights anti-Semitism and discrimination.
Authorities were not as lenient with Sahin, however.
The community worker was warned by the prosecutor's office that he had made a criminal insult during the conversation with the youngsters after the program. He was then threatened by authorities with prosecution if he made further 'criminal' remarks to the teens during the year.
The prosecutor's office did, however, document there was no proof Sahin had manipulated the youths into making their statements.
Arutz Sheva asked noted expert on anti-Semitism Dr. Manfred Gerstenfeld for his comments on the matter.
"The light punishment meted out by the Dutch Prosecution office for one Dutch Turkish Holocaust admirer youngster exposes yet another aspect of the Dutch authorities' failed policies in dealing with the increase in anti-Semitism during the last decade," he said.
"Dutch national media did not consider this issue newsworthy for several weeks," he added, "until the Simon Wiesenthal Center wrote a letter to Dutch Prime Minister Mark Rutte on the scandal. Only Arutz Sheva reported on it  before that."
Afterwards, he noted, Law Professor Afshin Elian wrote that public statements made by Turkish Prime Minister Recep Tayyip Erdogan have been among the catalysts for increased anti-Semitism among Turks.
"It is obvious the opinions expressed by Turkish youngsters have more supporters in the Turkish community in The Netherlands," Gerstenfeld wrote. "The emphasis in the media is on the youngsters, but it is likely that these problems originate from adults."
A probe into the issue of anti-Semitism in the Muslim communities of the Netherlands is long overdue, he contended, but pointed out, "there is long-lasting unwillingness to address the sizable anti-Semitism problem among Dutch Muslims."
The Center for Information and Documentation on Israel (CIDI) initially did not want to prosecute the young Holocaust and Hitler admirers, Gerstenfeld wrote, claiming this would hinder the educational work of Sahin with Turkish youngsters in Arnhem. But "it quickly became clear that this had been a mistaken decision, as Shahin had to go into hiding. One can only hope that as CIDI has a new director, Ms. Ester Voet – former editor of the Jewish weekly NIW – it will become more active in its battle against widespread anti-Semitism."