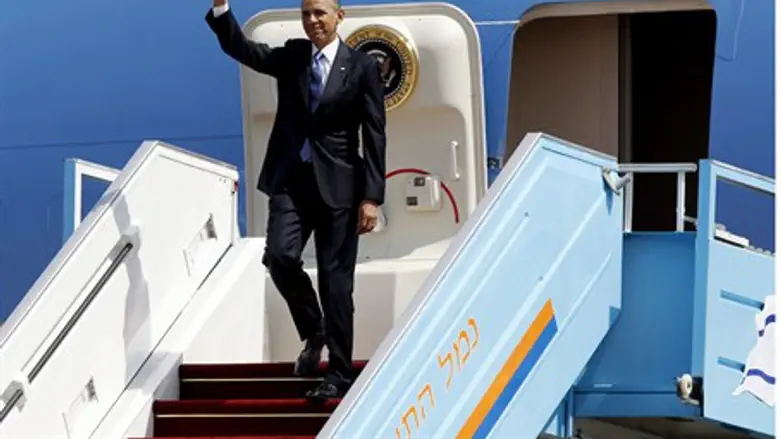 U.S. President Barack Obama arrives at Ben Gu
Reuters
PA Arabs are not happy that U.S. President Barack H. Obama is paying Ramallah a visit Thursday. In fact, said a PA official, "we don't want Obama here."
Speaking to Yisrael Hayom, a PA official who is very close to PA chief Mahmoud Abbas, said that "unfortunately we do not have much hope for this visit, and we don't believe it will lead to a renewal of negotiations."
"Obama is not wanted here," said Rassam al-Massry, a top PA official and an organizer of protests against the President's visit. "He declared that he will not pressure Israel to return to negotiations, and he thwarts every attempt by the Palestinians to condemn Israel in the UN," he said.
Throughout the week, PA Arabs have torn down posters with Obama's image and scrawled anti-American graffiti throughout Ramallah and Bethlehem, which Obama is set to visit Thursday.
Arabs in Bethlehem had a "warm welcome" for American officials who on Monday came to prepare for President Barack H. Obama's visit to the city Friday, by throwing shoes and garbage at the vehicles in an entourage from the U.S. Consulate in Jerusalem. Hundreds of Arabs mobbed the vehicles outside the Church of the Nativity, where Obama is scheduled to visit when he comes to Bethlehem.
Sources in the city told Israel Radio that Arab protesters tore down posters with Obama's image, throwing them to the ground and spitting and stepping on them. The protesters threw shoes at other posters that were hung too high for them to easily tear down.