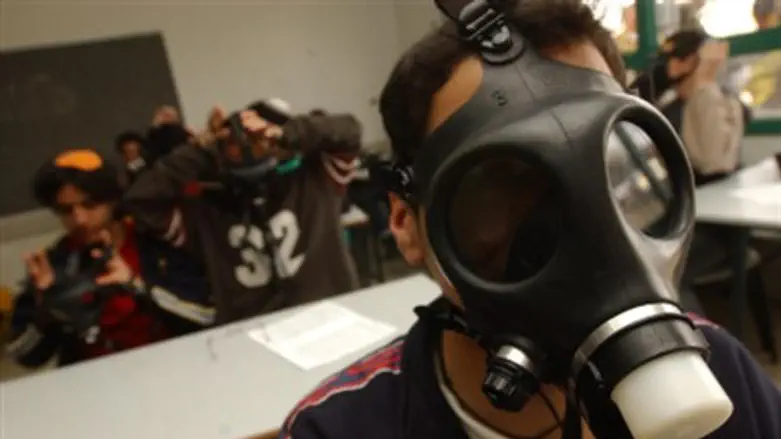 Gas masks in Israeli school drill (file)
Israel news photo: Flash 90
The number of Israelis ordering gas masks has more than doubled in recent days, the Post Office reports. The increase comes in the wake of warnings from experts that Syria's chemical weapons could fall into Hizbullah's hands.
Prime Minister Binyamin Netanyahu said Sunday that the defense establishment is following the latest deterioration in stability in Syria with concern. In particular, it is monitoring Syria's chemical weapons, he said.
"We must look at our surroundings, at what is happening in Iran and its proxies, what is happening on other fronts, with the deadly weapons in Syria… The Middle East is not waiting for the outcome of the elections and does not pause while the government is assembled," Netanyahu told the Cabinet this week.
Since his statements were publicized 4,000 gas masks have been distributed, compared to an average of 1,400 per week. In total, 4.7 million gas masks have been distributed. The total population of Israel is nearly 8 million.
One of the latest battlegrounds in Syria is the village of As-Safira, which is home to one of at least five chemical weapons storage facilities.