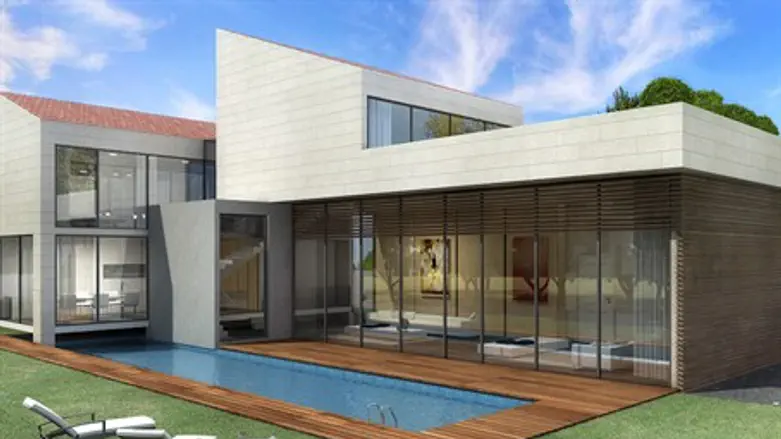 Givat Zeev home
Nofei Israel
With the growth spurt of the Jewish communities in Israel and the world over, and the continual rise in Aliyah numbers, it is obvious that the development of new communities and building projects in Israel is of paramount importance. As the epicenter of Aliyah dreams, Jerusalem sees an unprecedented number of immigrants annually, many of them searching for high-quality living in one of the world's most sought after cities.
Enter Nofei Israel. With visions of luxury and class, built in the heart of Jerusalem for affordable prices, Nofei Israel's building projects are truly a dream come true for anyone considering Aliyah or searching for the perfect home in Jerusalem. Located in the neighborhood of Givat Zeev, minutes away from the center of Jerusalem, Nofei Israel truly brings the best of both worlds. Surrounded by beautiful greenery and parks, Nofei Israel caters to religious families who are looking for high quality of life amidst all of the necessary community facilities and amenities. Modern commercial and recreational areas will further serve to create a rich living experience.
Marketing of the first 400 units is now underway, with 150 lots currently being marketed as self-constructing. An additional 250 luxury apartments will be added to establish the orthodox community, as well as the necessary shuls, schools and mikvahs. So far 80 lots have already been sold.  The rest are been marketed these days, by Nofei Israel's representatives that comes directly to the client's house in Monsey and the Five Towns as well as Lakewood and other areas upon request.
Nofei Israel places strong emphasis on quality of life with beautiful views of nature and a country atmosphere being of utmost consideration. In addition, community centers will also be built in the neighborhood - uniquely adapted to the target audience and its requirements.
Designed by Israel's top architects, individual apartments within the development have potential for every conceivable comfort – from swimming pools to private decks and beyond. Nofei Israel, a company that has acquired an esteemed reputation in the Israeli real estate market, offers buyers five different design options. Alternately, buyers may choose to build their own homes to their unique specifications.
Alpha In addition, the apartments themselves can contain the finest amenities and comfort, each designed to be built on an area of ​​about 200 square meters and above, and has the foundation to build a private pool etc.
The houses are built as a 2 family house, in which any two tenants build their house together, but each of them can design their house as they wish and adjust their privacy according to their family's needs and as they see fit. The costumer can also choose to build a fully private detached home.