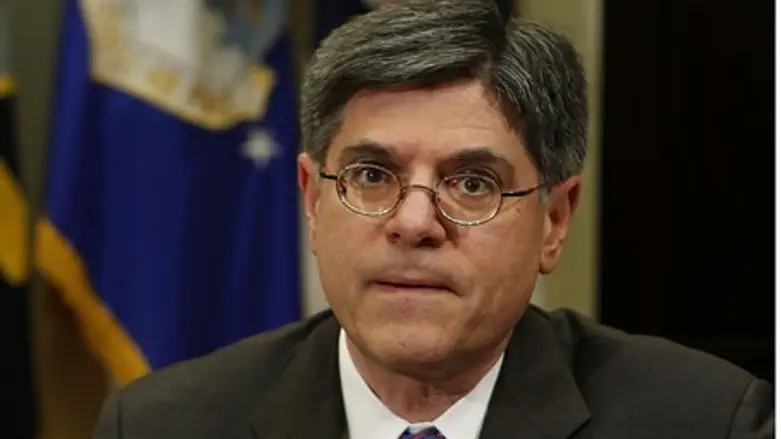 Obama will name Lew as Secretary of Treasury
Reuters
U.S. President Barack Obama is set to appoint White House chief of staff Jack Lew as Treasury Secretary on Thursday, an orthodox Jew with strong ties within the American Jewish community. 
Lew is an observant Jew who attends Congregation Beth Sholom in Potomac, Maryland. 
When asked about how he would be able to balance his religious beliefs and the high profile job of being in the President's cabinet, Lew aid that having already worked with Obama as his Chief of Staff, he knows that the President is very respectful of his faith.
He quipped that there were many times when he served as Obama's Chief of Staff and the two were discussing something on a Friday, Obama would look at his watch and ask, "Isn't it time for you to go?"
"It's not that he truly thinks I don't know the time, but he says this because he wants to remind me that he respects my religion and that it is important to him. So that I can balance things," Lew remarked. 
He also said that Obama told him "I know that issues will arise when there might be emergencies on Shabbat. I know you well enough to know that you know how to handle it. I want you to know that I will not ask you to work on Saturday if it is not really necessary. It's important for me that you know this."
He assured the president that in an emergency he will do everything in his power to balance his work duties and religious faith. 
Some have claimed that Lew, who has extensive connections in the American Jewish community, may be essential in helping Obama build a more friendly rapport with Israeli Prime Minister Binyamin Netanyahu.
Although Lew has not participated actively in discussions to obtain agreement to avert the fiscal cliff, he reportedly played a major role in shaping the White House's management strategy and briefed Wall Street executives during the discussions.
The next Treasury secretary will play a leading role in working with Congress to raise the government's $16.4 trillion debt ceiling. The U.S. reached the statutory limit on Dec. 31, and the Treasury Department began using extraordinary measures to finance the government. It will exhaust that avenue as early as mid-February, the Congressional Budget Office says.
Lew's nomination as Treasury secretary is subject to Senate confirmation, but his prospects for confirmation are said to be extraordinarily high.