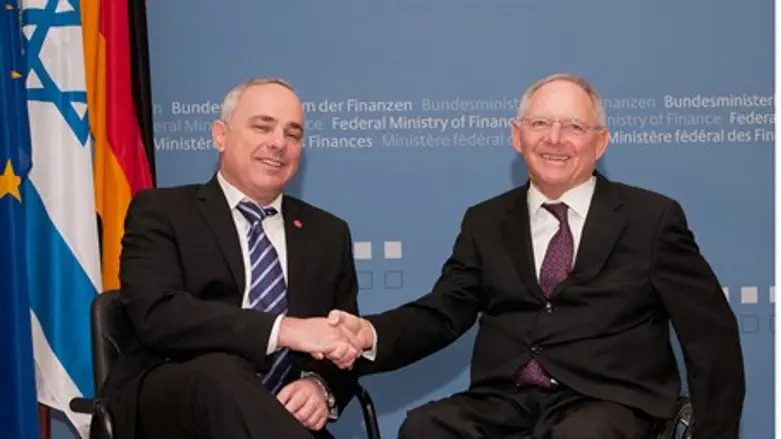 Steinitz and his German counterpart
Ministry of Finance
In the shadow of the heads of government of Israel and Germany who met on Thursday, Israel's Finance Minister Yuval Steinitz and his German counterpart Wolfgang Schauble held a meeting to discuss the economic state of affairs of the two countries. 
Most of the discussion revolved around the economic situation in Europe and Germany's central role in stabilizing the region, as well as Israel's strategies in dealing with the global economic crisis.
Steinitz agreed, at the request of the German Finance Minister, to involve Israel in the international organization FATF (Financial Action Task Force), which, among other things, helps prevent money laundering on a global scale.
The two also discussed a topic that has been a major issue in Israel for some time now - the mismanagement of money for Shoah victims. The two ministers agreed to establish a joint team to dismantle several bureaucratic hurdles encountered by Holocaust survivors trying to seek funds from German authorities. This follows Germany's recent decision to increase the scope of compensation provided by $200 million.
At the end of the meeting, Steinitz invited his colleague to visit Israel, as he declared the importance of continued economic cooperation between the two countries.