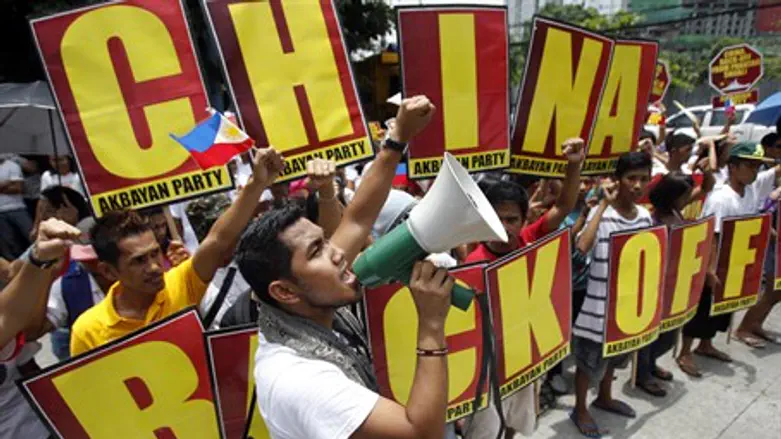 Manila demonstration
Reuters
There was a lull in the tensions involving the South China Sea while China was going through its once-in-a-decade power changeover.
The issue has now returned with a vengeance and it is openly pitting China against another regional heavyweight –India.
The head of the Indian Navy, Admiral D. K. Joshi, stated that the Indian Navy was ready to go to the South China Sea to protect the country's interests. By this he meant that it would defend an Indian oil company that was prospecting for oil off Vietnam. The area is in dispute between China, Vietnam and other countries.
China's English-language Global Times, run by the official party organ People's Daily, quoted a Foreign Ministry spokesperson who expected unnamed countries to respect Chinese sovereignty over the area and support the Chinese bilateral (as opposed to multilateral) efforts to resolve the crisis.
Admiral Joshi announced that the Indian Navy is already conducting exercises in anticipation of its mission.
The tension between China and Vietnam continues unabated and  Vietnam has accused Chinese fishing vessels of interfering with Vietnamese oil and gas exploration near the Gulf of Tonkin -- that same Gulf of Tonkin that figured prominently in America's Vietnam War. This area is also being claimed by China.
In response, Vietnam threatened to send naval vessels to the area.
A further escalation came when a Chinese provincial government announced that Chinese vessels would board and search ships passing through the disputed areas.
The Philippines immediately called upon China to clarify this issue and announced that such action on China's part would be "illegal and will validate the continuous and repeated pronouncements by the Philippines that China's claim of indisputable sovereignty over virtually the entire South China Sea is not only an excessive claim but a threat to all countries."
In the meantime, the Philippine Bureau of Immigration announced that it would refuse to stamp Chinese passports that showed the disputed areas as part of Chinese territory. Instead the Bureau of immigration would stamp the visa application and keep it separate from the passports.