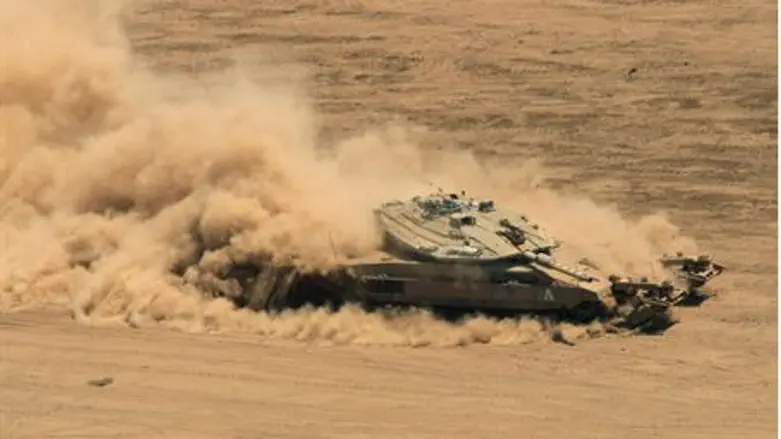 Merkava tank in action
Israel news photo: Flash 90
Reserve Col. Moshe (Musa) Peled, a former tank division commander, still wears his uniform, this time as a driver for a huge truck carrier for tanks, but he adds he will retire – at age 75.
Col. Peled, a former Knesset Member and Tank Division 7 commander, told Arutz Sheva he has not missed a day of Reserve duty for years.
Released 21 years ago from the IDF and exempt from2 Reserve duty, Peled said he wanted to feel close to the tank unit and decided to take a course to learn how to drive the monster-sized carriers that transport tanks to bases and to the fighting front.
He is busy working to help Gush Katif expulsion victims and assist in expanding a Jewish presence in the Golan Heights, but Peled drops everything and dons his uniform when called.
His work in moving tanks around the country was critical in the recent Pillar of Defense counterterrorist operation, when tank carriers took hundreds of tanks from Golan Heights to the Gaza border, taking a commanding presence on Israel's north-south Kvish 6 (Highway 6) high-speed toll road.
Peled says his wife is used to him leaving home for reserve duty because she knows "I work for the country, for the IDF, and for the People of Israel."
He says he would gladly step down for the younger generation but that there are not enough young drivers.
He plans to continue to drive the tank carriers but "only" until age 75 and "no longer."
Peled said that during his service in Operation Pillar of Defense he was able to celebrate the birthday of a colleague who is around his age. "We also replace Druze drivers when they have holidays," he adds.