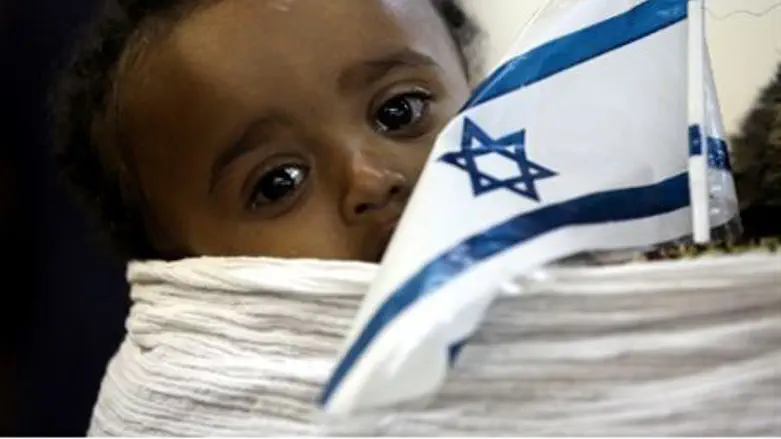 Ethiopian Baby with Israeli flag
Israel news photo: Flash 90
The last 2,000 "Falash Mura [wanderer in Ethiopia's Amharic language] Jews are preparing to come to the Promised Land next year, completing what may be the first and only time an entire country's Jewish community has followed the forefather Abraham's experience of leaving his birthplace and exercising his faith in G-d by moving en masse to the Promised Land.
The Erev Shabbat airlift of nearly 15,000 Jews from Ethiopia in 1991 stroked the emotions of Israel, which always has wondered why all Jews in the world do not come "home."
Rabbis sanctioned the secret airlift on the Sabbath, when traveling normally is prohibited, because it was deemed to be covered by the permission and even requirement to lift Sabbath prohibitions in order to save a life.
Ethiopia's brutal Communist dictator in the 1980s, Mengistu Hailemariam, used Ethiopia's Jews as pawns and tried to trade them for weapons from Israel, AFP reports.
Many left Ethiopia illegally, travelling by foot to Sudan, where 20,000 people were eventually flown to Israel in Operation Moses in 1985, the precursor to the 1991 airlift from the Ethiopian capital Addis Ababa.
The airlift, known as Operation Solomon, came as Mengistu lost his grip on power.
It was one of the most daring operations in Ethiopian history: The nearly 15,000 people were crammed into a series of non-stop flights lasting 36 hours.
Clutching only a few belongings, in planes with seats removed to make more space, they left a nation their ancestors had called home for two millennia for a land they knew only from scripture.
More than two decades later, some 2,000 descendants and relatives of those Israel had identified as original Jews are set to join them in the Holy Land.
Ethiopia's remaining Falash Mura live in Gondar in the north of the country, supported by the Jerusalem-based organization the Jewish Agency for Israel, where many have waited for years to complete bureaucratic hurdles and win approval to move.
Many say they feel frozen in limbo, not quite at home in Ethiopia, eager to become Israelis and suffering from a long separation from family members who have already left.
"Once... you're in this halfway status of being internal refugees, you're certainly better off in Israel than being internal refugees in Ethiopia," said Steven Kaplan, professor of religion and African studies at Jerusalem's Hebrew University.
All that's left of the Falash Mura are expected to move to Israel over the next 18 months, marking the end of an ancient chapter of Ethiopian history.
"It is G-d's promise to us to go to the Promised Land and fulfill his prophecy... but that doesn't change the fact that I am Ethiopian," said Gasho Abenet, 25.
However, religious and social discrimination take their toll, and Gasho, who wears a black and white kippa and a Star of David pin, added, "The life that we are living here is a nightmare, we can never settle." 
"It is difficult to live here in Ethiopia as an Israelite because we get insulted," 22-year-old Amhare Fantahun said.
Some say Ethiopia's ancient Jews – called Beta Israel, or "House of Israel" -- are descendants of Jewish nomads who travelled first to Egypt, then on to Ethiopia. Others say they are direct descendants of the Queen of Sheba and King Solomon.
The Falash Mura, descendants of the Beta Israel -- many of whom were forced to convert to Christianity in the 18th and 19th centuries – have observed a unique interpretation of Judaism for generations.
Practices include separating menstruating women from men and burying their dead in Christian cemeteries. They must learn rabbinic law and Hebrew before moving to Israel.
In skullcaps and draped in prayer scarves, they gather every week in Gondar's makeshift synagogue, a corrugated iron shed painted the blue and white of Israel's flag, chanting verses from the Torah in Ethiopia's Amharic language.
Evidence of the Ethiopian Jewry's strong and historical attachment to Judaism was illustrated in the early 1980s when an American Jewish leader visited Ethiopia. He reported that even though many in the Jewish community did not even know there were other Jews in the world and that the State of Israel, they read on the Sabbath the exact same Torah portion that Jews around the world also read.