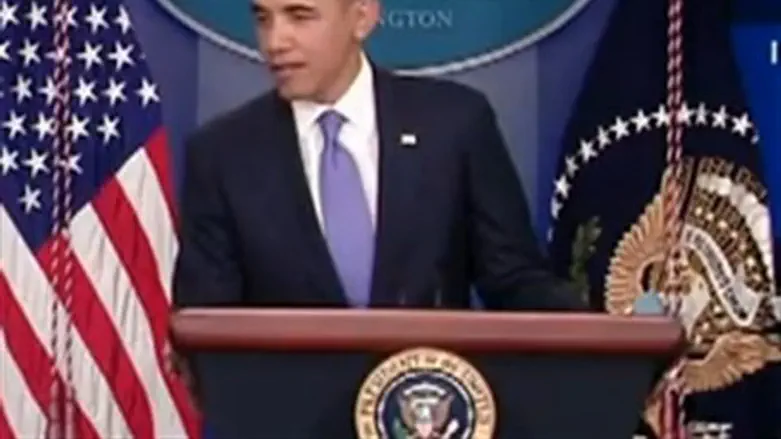 Barack Obama
White House
Britain warned Israel Sunday against launching a ground operation in Gaza, but the United States appeared to leave the decision to Israel.
On a visit to the Far East, President Barack H. Obama said that the U.S. is, and will remain, "fully supportive of Israel's right to defend itself." 
"There is no country in the world that would be prepared to tolerate" the rain of missiles on its citizens that Israel is, and the U.S. understands and supports Israel's position. Obama added that "it would be better to prevent the rocket attacks without further escalating the conflict in Gaza."
It would be better if Israel avoided a ground action, Obama said; If Israel could solve its security problem "without a ramping up of military activity in Gaza, that's preferable, not just for the people of Gaza. It's preferable for the Israelis because if Israeli troops are in Gaza they are much more at risk of incurring fatalities or being wounded," he said.
"We're going to have to see what kind of progress we can make in the next 24, 36, 48 hours," Obama added, "but what I've said to [Egyptian] President Morsi and [Turkish] Prime Minister Erdogan is that those who champion the cause of the Palestinians should recognize that if we see a further escalation of the situation in Gaza than the likelihood of us getting back on any kind of peace track that leads to a two state solution is going to be pushed off way into the future."
Speaking more explicitly earlier Sunday was British Foreign Secretary William Hague, who specifically warned Israel against embarking on a ground operation. Such an operation, he said, would cause Israel to lose much international sympathy and support.
"It's much more difficult to restrict and avoid civilian casualties during a ground invasion and a large ground operation would threaten to prolong the conflict," Hague said. "So we have made our views very clear on that with Israel, just as we have made very clear our view that the barrage of rockets from Gaza onto southern Israel is an intolerable situation for the Israelis and it's not surprising they have responded to that. A ground invasion is much more difficult for the international community to sympathize with or support -- including the United Kingdom," he added.