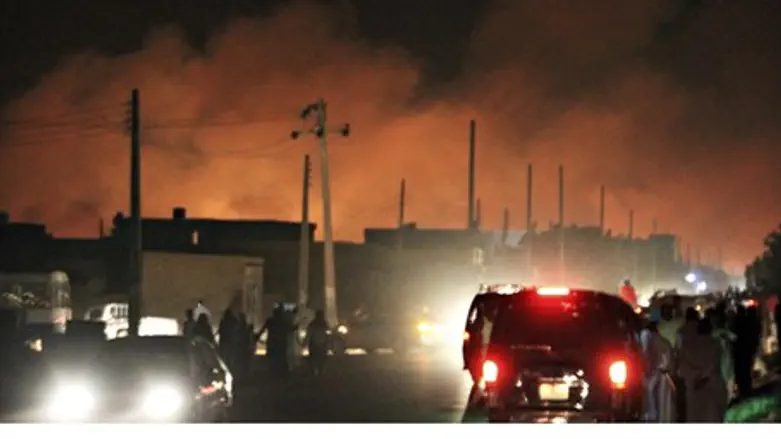 Fire engulfs Yarmouk munitions factory in Kha
Reuters
Iran has sent two navy vessels to a Sudanese port five days after a weapons factory was destroyed in Khartoum. Sundanese officials continue to blame Israel for the overnight air strike by four military planes last Wednesday that demolished the Yarmouk arms factory. 
The 'Shahid Naqdi' and a freighter set sail last month from southern Iran, according to the official IRNA news agency, docking in Sudan after passing through the Red Sea. The purpose of the visit was to "convey a message of peace and friendship to the region's countries and to provide safety at sea in light of maritime terrorism," IRNA reported. 
Sudan has served as a major hub for arms trafficking throughout the region. Top Israeli defense official Amos Gilad said last week that Sudan "serves as a route for the transfer, via Egyptian territory, of Iranian weapons to Hamas and Islamic Jihad terrorists," AFP reported.
On Monday (today), a Sudanese newspaper also reported that CIA Director David Petraeus called his one of his counterparts in the country to offer a denial of responsibility for the attack. Petraeus allegedly told Sudanese deputy intelligence head Saleh A-Tayeb last week in a phone call the U.S. did not have early knowledge of the attack and denied having assisted Israel in the operation.
Nevertheless, according to the report published in the local al-Intiba newspaper, A-Tayeb told Petraeus the U.S. could have pressured Israel into refraining from carrying out the attack.
Images released by a U.S. monitoring group, the Satellite Sentinel Project, said six 52-foot wide craters were seen near the epicenter of the explosion at the compound. Officials reported no deaths, although some residents suffered from smoke inhalation. 
On Saturday, Sudanese Information Minister Ahmed Bilal Osman told the BBC that Israeli interests had become legitimate targets for attack as a result of the explosion.