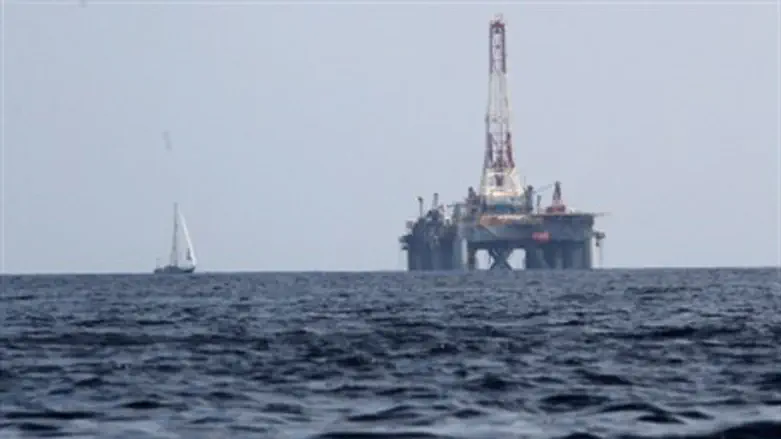 Gas rig in the Mediterranean
Israel news photo: Flash 90
Noble Energy officials say they believe there is "a lot more" natural gas than first estimated in the Cypriot Block 12 offshore field.
The announcement was made to journalists at a news conference Wednesday in Nicosia by Noble's Cyprus manager, John Tomich. The firm owns 70 percent of the Block 12 license, together with Delek Group's  Avner Oil and Gas (15 percent) and Delek Drilling Limited Partnership (15 percent).
"We made that nice discovery [in May] of that 7 TCF (trillion cubic feet -ed.)," Tomich told reporters, "but we think there is a lot more potentially there, and we'll be chasing additional gas fields." He added the company will be exploring for oil beneath the natural gas strata, but said the probability was low that oil rig workers would find any significant amount of the black gold.
Tomich also told reporters that Noble Energy is negotiating with the government of Cyprus to establish a terminal for liquified natural gas (LNG) on the country's coast. Such a terminal could also manage natural gas from neighboring fields, he pointed out.
"Something that is very important for the government and for Noble is the fact that this LNG plan will be expandable to handle additional volumes of gas that could be found in other blocks, so it will be an 'open access' plan.
"Gas could come from Block 12 if we find additional gas, or from other operators in Cyprus – or maybe there is gas that might be coming over from Israel in due time as well," he said.