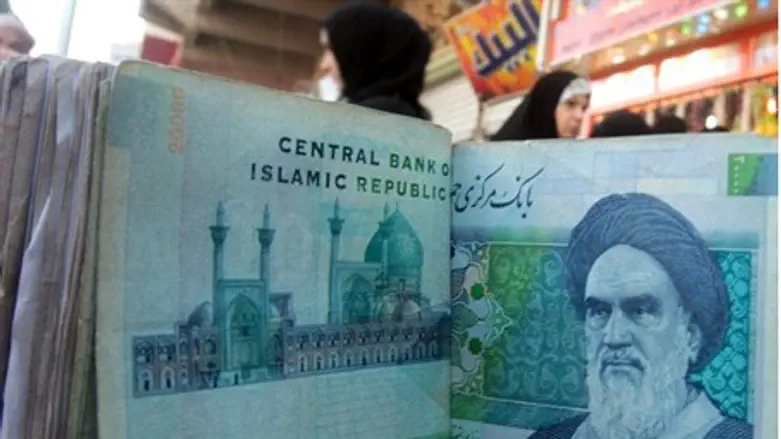 Iranian rial
AFP/Ali al-Saadi
Iran has urged its 75 million citizens to curb the use of foreign built cars and cellphones, and says it will slash the import of nonessential items. This is the latest in an assessment by the Islamic Republic on how to withstand the cold winter of economic sanctions. Imported goods have been divided into 10 categories, based on their practicality. Importers will be subsequently subsidized with cash in order to facilitate the purchase of basic goods.
Deputy Industry Minister Hamid Safdel told the Iranian Students' News Agency (ISNA) on Sunday that between $10 billion and $12 billion is spent annually on the importing of luxury items such as luggage, cellphones, cigarette papers, wall paper, cars and clothing. Industry Minister Mehdi Ghazanfari has urged Iranians to lighten their use of imported and luxury and items and to turn to essential items and especially homemade items.
The rial is currently trading on the open market at half its value a year ago and a quarter since last month.  According to the International Monetary Fund (IMF), the gross domestic product in the Islamic Republic is about $6,400 per person.
Iran's merchandise imports are about $50 billion per year, and this figure will be slashed $10 to $12 million. According to the parliamentary news agency, Icana, the industry committee will be investigating claims that 750 luxury automobiles were illegally imported at 12,260 rials each.