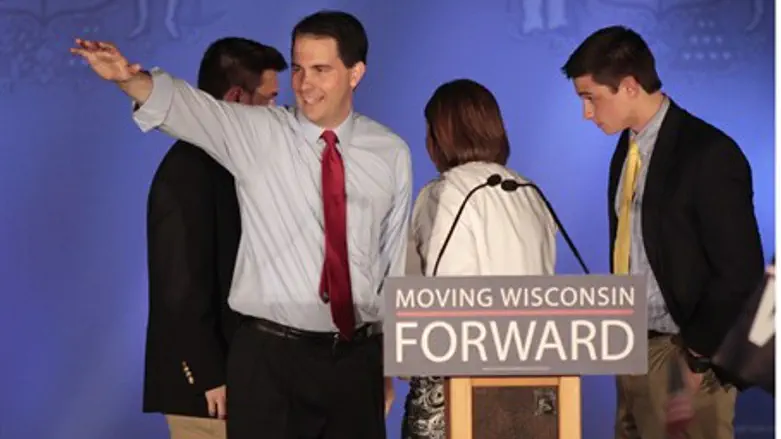 Scott Walker
Reuters
Although the early exit polls predicted a neck and neck race between Republican Governor Scott Walker of Wisconsin and his opponent Milwaukee Mayor Tom Barrett, Walker actually won by a bigger margin in this rematch with Barret.
This was a recall election exploiting a tradition from Wisconsin's Progressive Era legislation that allows voters to secure an election by securing enough signatures on petitions. This feature was intended originally as a check on corrupt or totally incompetent politicians but was used in this campaign to punish Walker for taking on the state's civil service unions and weakening their power in collective bargaining negotiations. The unions gathered over a million signatures in an 18 month-drive to unseat Walker that failed.
The Romney campaign is viewing the Walker victory as a harbinger for the November elections. The Democrats, fearing a Walker victory, kept Obama out of the fray although Democratic National Chair Debbie Wasserman Schultz called the recall election a dry run for November. Republican National Chairman Rence Priebus, who is incidentally from Wisconsin, sent out a triumphant memo:
It was also an absolute disaster for President Obama. In the first electoral test of 2012, Scott Walker and the GOP won a resounding victory over Obama's campaign arm and the liberal special interests.
The momentum in Wisconsin is firmly on the Republican side. The enthusiasm of our volunteers and the success of our operation will carry us forward to November.
The Democrats are trying to downplay the Wisconsin results by claiming that the Walker victory was essentially a fluke because many voters did not believe that Walker should be recalled simply on policy differences but only in the case of corrupt behavior.
According to the exit poll,s Walker captured far more Obama voters than his opponent took Romney voters (of course the same polls underestimated the Walker victory by 9%). The Democrats were damaged by a bitter primary fight that sucked up needed resources. Walker, thanks to a loophole, was able to outspend his opponent 7:1 (although this money was probably wasted since almost all the voters have made up their mind a month ago). Voters who hate Milwaukee voted against Barret.
The Republicans can exult because Walker's convincing victory was achieved despite heavy voter turnout that normally serves the Democrats. Walker was carrying the ideological flag that the Republicans will unfurl to a large measure in November. The results of the recall election puts Wisconsin into play. The last time the Republicans captured the state of Wisconsin was in 1984 when Ronald Reagan beat Walter Mondale. George W. Bush failed to capture Wisconsin by a single percentage point. If Romney can flip Wisconsin from the Democratic column, he will significantly broaden his path to winning the necessary 207 the votes in the Electoral College.