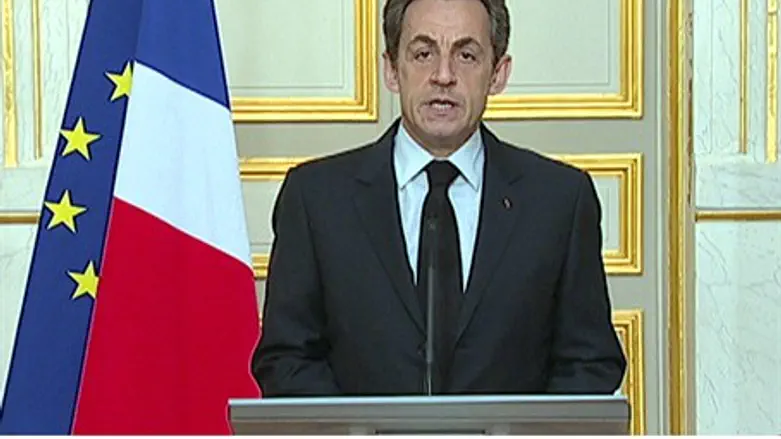 Sarkozy Announces Crackdown
Reuters
French President Nicolas Sarkozy said Thursday that police are searching for possible accomplices of mass murderer Mohammad Merah.
Merah, 23, is believed to have murdered seven people in nine days in the Toulouse area – three paratroopers, a rabbi and three young children at a Jewish school.
He was killed on Thursday following a 32-hour standoff with police that included several exchanges of gunfire. It was reported he was shot in the head as he leapt from a high window after opening fire on oncoming police who were raiding his apartment.
"All was done to bring the killer to justice, but it was inconceivable to risk lives... There have already been too many deaths," Sarkozy said after a meeting with the defense, justice and foreign ministers.
Meanwhile, Sarkozy announced a new crackdown in France on the spread of terrorist-linked ideologies and activities.
Anyone who regularly visits "websites which support terrorism or call for hate or violence will be punished by the law," Sarkozy said.
He also promised a crackdown on anyone who goes abroad "for the purposes of indoctrination in terrorist ideology."
But France's Muslims "had nothing to do with the crazy motive of a terrorist," the election-bound Sarkozy said, referring to the nation's estimated 5 million Muslims – the largest such population in western Europe.
Paris Prosecutor Francois Molins, part of the anti-terrorist unit leading the investigation, told reporters in Toulouse that during hours of negotiations with police, Merah expressed pride in the slayings and had no regrets other than the fact he could kill no more.
The suspect "wants to take revenge for Palestinian children" killed in the Middle East and "has various grievances with the French military," Molins added.
Officials said Merah, a French citizen of Algerian descent, embraced a radical strain of Islam and had been to Afghanistan and the Pakistani terroor stronghold of Waziristan in order to recieve training from al-Qaeda.