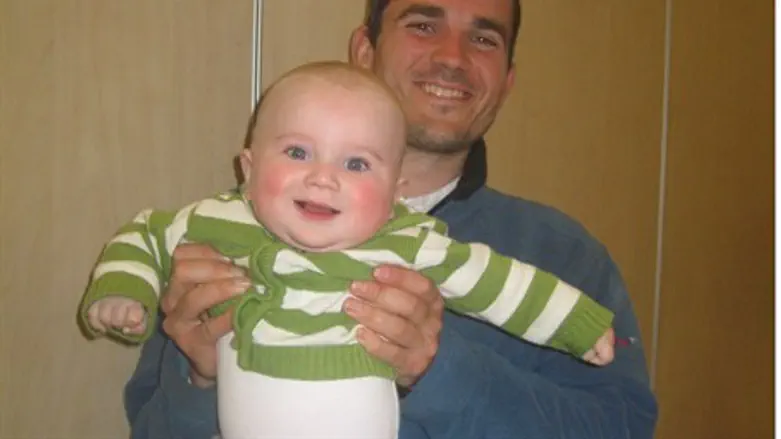 Asher and Yonatan Palmer
Israel news photo: Courtesy of Palmer family
The widow of Asher Palmer, murdered four months ago with their infant son Jonathan in a terror attack near Kiryat Arba, spoke to Arutz Sheva about the birth of their daughter.
Pua, who gave birth to Orit on Wednesday, "Four months have passed since the attack. We now have a daughter named Orit. The day after she was born, my father ascended to the Torah in the synagogue in Jerusalem, and announced the name Orit".
Pua says Asher loved the name, but that in retrospect she realized how appropriate is was. "After the attack, a month ago I noticed the Hebrew consonants/letters of Orit [Aleph, Vav, Resh, Yod, Tav -ed.] are comprised of the Aleph and Resh of Asher, and of the Yod and Vav of Yonatan. Orit is also a big light and even the name of my midwife was Orit, so that everything came together."
After the attack, Pua moved to live with her family in Efrat. "Since the attack I have not returned home [to Kiryat Arba]. I'm recovering. But I lost my love. I lost all my life. I spent the last few months with difficult feelings."
"Anyone can imagine what goes on when a person loses a husband and child. It was like the ground fell out from underneath me. The whole world has been erased," she explained.
Pua said the birth has brought her great joy, but that it is tinged with sadness from her beloved's murder. "This is a joy with a lot of mixed feelings. I now have something alive and breathing in my arms. But I acknowledge Jonathan. I would not call this consolation - there is no comfort in this case - but there is a special light. A new beginning."
She said it was very difficult to shop for Orit before she was born. "Everything reminded me of Jonathan. I simply couldn't. Even now it is difficult. It reminds me of my loss and of my time with Johnathan. In recent months I focused on mourning. I wanted to experience the pain so it could end."
"I do not know where the pain is supposed to go, but as they say despite life being hard it can bring good surprises," she said.
Pua also spoke of the vineyard in Kiryat Arba being planted with wine grapes in memory of Asher. "Family and friends are involved. This was his dream, he loved the land and working the land. He always dreamed of a vineyard of his own, and part of the dream was to plant in the country."
She added, "We will build a future playground in memory of Jonathan and will gladly accept donations for it. This is an area with tourism potential, the Cave of the Patriarchs and other antiquities, and agronomists who visited there told us that this area is amazing."