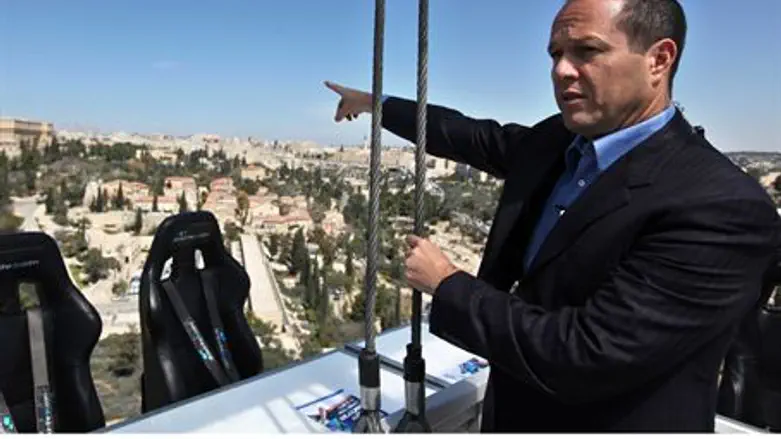 Jerusalem Mayor Nir Barkat at
Israel news photo: Flash 90
The city of Jerusalem has upgraded the public playgrounds in two Arab neighborhoods, Beit Hanina and Jabel Mukabar. 
The projects, which cost a total of approximately NIS 350,000, were carried out by the Department of Parks and Recreation. Both were implemented in collaboration with the community councils of each neighborhood and according to needs raised by the residents, city officials said.
Improvements to the playgrounds included "new, unique and safe playground facilities" as well as newly-paved access roads and the installation of safety rubber surfaces.
The playground in Jabel Mukabar proved to be considerably more complex a challenge than that in Beit Hanina, according to a statement by the city.
Two playground areas were installed, one for young children and the other a combined facility for those who are older. "The facilities were installed on a safe rubber surface," officials said in their statement, "and the magnificent view of the neighborhood can be seen from the playground."
A recent survey conducted by the Washington Institute for Near East Policy showed an increase of 19 percent in the satisfaction of eastern Jerusalem residents with services provided by the city, and an increase of 13 percent in their satisfaction with their quality of life.
"Closing the gaps and the considerable investments made by the municipality in all areas of interest in eastern Jerusalem starts paying off," said Mayor Nir Barkat.
"Unprecedented amounts were invested in planning and building, transportation, education and community and social services in the eastern part of the city. New classrooms were opened, the HaNevi'im public transport termined was opened and the light rail is now available to eastern Jerusalem residents, providing easy and accessible public transportation. Now we will start to see results in recreation and leisure activities in this area as well."
Not all of the residents of eastern Jerusalem shared the mayor's optimism, however: there have been a number of attacks on the light rail as it has passed through Arab neighborhoods.
Arabs have been rioting and attacking police officers in the Jerusalem neighborhood of Shuafat since Thursday to express their rage over the construction of a pedestrian walkway at a security checkpoint in their neighborhood to facilitate easier passage towards the city's center.