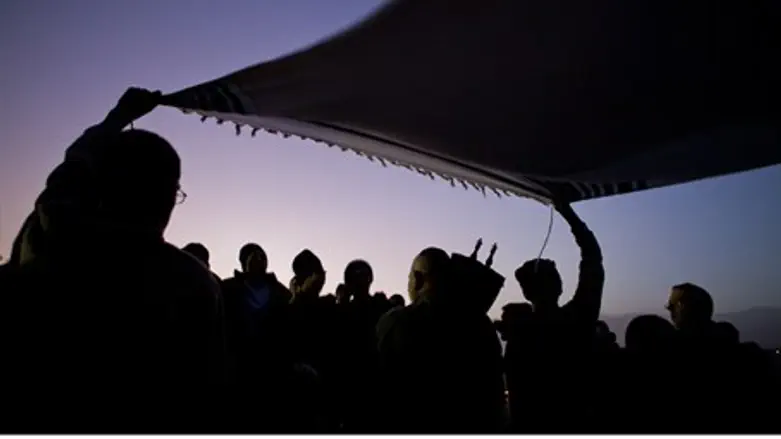 Torah welcoming in Itamar
Heather Meyers / Samaria Authority
A Torah scroll saved from the ashes of the Holocaust has been placed in a new synagogue in Itamar, in memory of the five members of the Fogel family who were murdered there earlier this year.
After the massacre, Jack Ross from New York connected with the community through Americans for a Safe Israel and offered to donate a Torah scroll that been rescued from Poland during the Shoah. He had the Torah repaired by a scribe and made kosher after 70 years of not being used and then donated it to a synogogue in Itamar in memory of the Fogel family. 
Ross came to Itamar accompanied by a delegation from the AFSI group and has spent the last week working as a volunteer builder and actually completing the work on the new synagogue and Ark where the Torah was placed. 
Hundreds of residents took part in the Torah welcoming ceremony Tuesday, writing the last letters of the Torah, as is the custom, and taking the Torah – in a dancing procession – to its new home on a hilltop neighborhood in Itamar.
The building of the synagogue was made possible through grants provided by the Israel Independence Fund. 
At the ceremony, Shomron Liaison David Ha'ivri and Itamar Mayor Moshe Goldsmith gave certificates of appreciation to the friends of Itamar who assisted in various projects for Itamar and Samaria (Shomron). Aharon Pulver, Chairman of the Israel Independence Fund, and Helen Freedman of AFSI, were honored for their "tireless efforts" for Israel and for the communities of Samaria.
At the ceremony, Shomron Regional Authority head Gershon Mesika compared the Torah, which is the heart of the Jewish people, to Itamar, which he said is the heart of the Land of Israel on the map. 
He said that just as the Jewish people could not exist without its heart, the Torah, so the Land of Israel could not survive without its heartland, the Shomron.
Mesika thanked the donor Jack Ross and the directors of AFSI and the Israel Independence Fund for their ongoing relationship and support for the communities of the Shomron.
Photos by Heather Meyers for Samaria Regional Council
Left to right: Aharon Pulver, Jack Ross, David Ha
credit: Gershon Mesika with Torah
credit: Jack Ross with Torah.