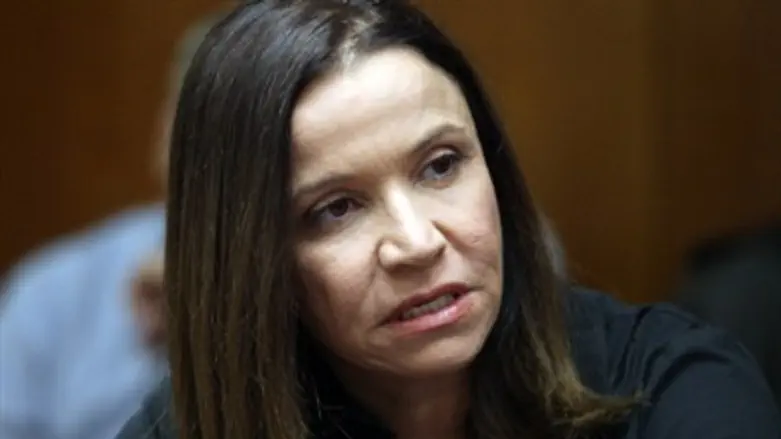 MK Shelly Yachimovich
Israel news photo: Flash 90
After an exciting and close second round, MK Shelly Yachimovich officially clinched the leadership of the Labor party on Wednesday evening.
Yachimovich achieved 54% of the party members' votes and thus defeated her rival, former party leader MK Amir Peretz, who received 45% of the votes.
Only 61% of Labor party members, 16,272 people, came to the 171 polling stations that were scattered across the country. This is five percent less than the number of activists who came out to vote in the first round last Monday.
Peretz has already phoned Yachimovich and congratulated her on her victory. Yachimovich is expected to make a victory speech shortly.
Earlier on Wednesday, Peretz was disappointed to hear that only 55% of Labor members from the Arab sector came out to vote, a figure which likely strengthened Yachimovich.
In last week's first round, Yachimovich received 32% of the votes and Peretz received 31%. MK Isaac Herzog was in third place, receiving 25% of the votes, while former Labor party leader Amram Mitzna received only 12%.
Yachimovich recently said in an interview that there is nothing wrong with the existence of the Jewish communities in Judea and Samaria.
"I'm familiar with the false equation that if there were no settlements we would have a welfare state," she said. "This is disconnected from reality. There is nothing wrong with the fact that there are Jewish towns in Judea and Samaria. They were built by the Labor party with national consensus. This is a historical fact."
Yachimovich also said in the same interview she would not boycott any products from Judea and Samaria.
A recent poll found that former Labor leader Ehud Barak, who defected from the party earlier this year, is headed for political oblivion following the election of a new leader for the Labor party.
A poll carried out by "Dialogue" the day after the first round revealed that Barak would be left with no representation in the next Knesset elections.