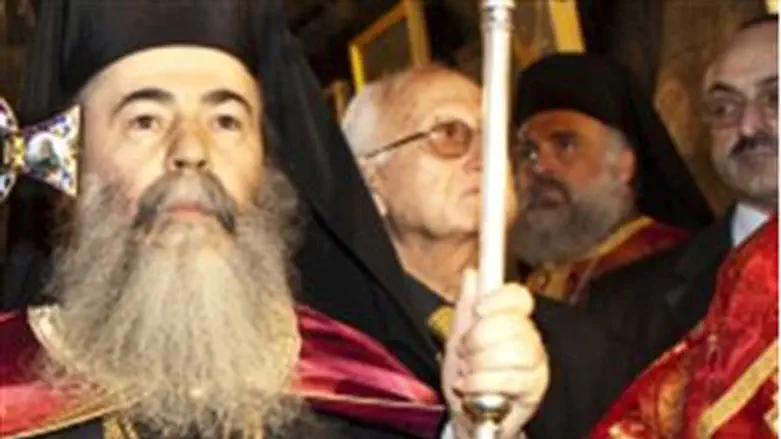 Greek Orthodox leader
Israel news photo: Flash 90
A group of Jewish businessmen has purchased "hundreds of dunams [quarter-acres]" of land from the Greek Orthodox Church. The report, on the Russian-language http://cursorinfo.co.il site, has not been corroborated by other sources.
Details on the purchase were sparsely reported. The location was given as "prestigious Jerusalem neighborhoods," and the price was reported as approximately 80 million shekels ($22.6 million).  
The properties are under lease, registered to the Israel Lands Authority until the year 2051. Negotiations in the 1990's to have the Greek Orthodox Church extend the lease for another century were stymied by the Palestinian Authority.
Buildings stand on most of the purchased lands.
The Greek Orthodox Church numbers about 100,000 faithful, most of them Arabs, and is considered the richest church in Israel. The Church Patriarch has responsibility for its extensive land holdings, which include the land on which the Knesset was built, the Prime Minister's and the President's official residences, parts of Jerusalem's wealthiest neighborhoods, locations in the Old City, and parts of the southern Jerusalem neighborhood of Har Homa. The acquisitions predate the establishment of the state of Israel. Some of these properties may have been sold in the recent deal.
The purchase agreement was signed by the leader of Greek Orthodoxy in Israel, Theophilus III. His predecessor, Irineos, was ousted because of accusations that he had planned to make a similar sale.

Theophilus, however, has still not taken a stand on a controversial sale several years ago of two hotels in the Old City, near the Jaffa Gate. to Jewish interests. Under heavy Palestinian Authority pressure, the Church later repudiated the sale, saying that Irineos' trusted financial advisor Nicholas Papedemes made the deal in Irineos' name, and then fled the country with the money. Though Irineos said he never authorized the Jaffa Gate transaction, Papedemes presented a document signed by Irineos authorizing him to carry out financial deals.