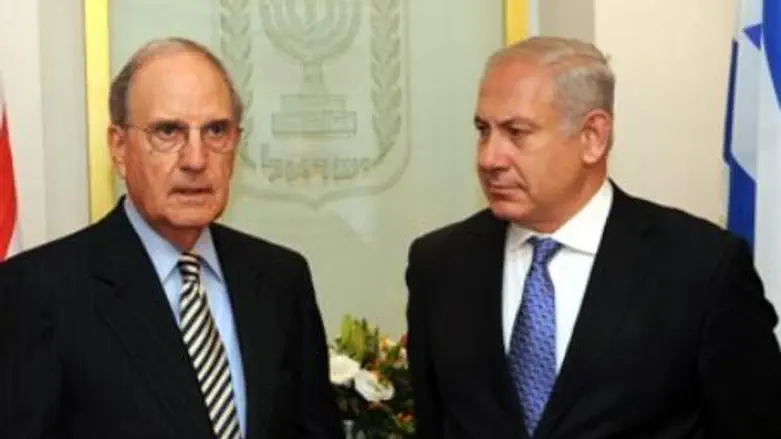 Mitchell and Prime Minister Netanyahu
Israel news photo: Flash 90
Palestinian Authority Chairman Mahmoud Abbas said Wednesday that the Israeli government is "extremist" and must halt all building for Jews on land claimed by the PA before it agrees to American-mediated talks. Asked if he would sit down to talk if Israel continues to build Jewish homes on land claimed by the PA, Abbas said, "Certainly not. This is our land."
The harsh words, stated in an interview with CNN a day after consultations with Saudi Arabia, came hours before Prime Minister Binyamin Netanyahu is to meet with U.S. Middle East envoy George Mitchell in what so far are one-sided talks.
If the PA officially agrees to turn the discussions into a two-sided affair, the okay will not come before Saturday, when senior PA officials meet. Nevertheless, Mitchell is scheduled to meet with Abbas on Friday, after sitting down with Netanyahu Wednesday afternoon. At the same time, Abbas is in Egypt for consultations following a conference with Saudi Arabia's King Abdullah in preparation for presenting to Mitchell conditions for a PA state. 
The "negotiations" that the Obama administration propose are theoretical because the PA has said the only subject on the table is for Israel to accept the Arab world's position. The PA probably will not refuse to approve the talks unless it is sure it can place a diplomatic failure on Israel's shoulders for its refusal to accept its conditions.
Neither Israel nor the PA has wanted to take the blame for failure of the Obama administration's latest Middle East diplomatic move, but each side has tried to paint the other as being guilty for not agreeing to meet in good faith.
IDF Intelligence officer Brig. Gen. Yosef Baidatz told the Knesset Foreign Affairs and Defense Committee Tuesday, "Abbas is preparing the ground for the talks to fail. He believes the failure will expose Israel's true face. He is pessimistic about the outcome and believes the ball is in Israel's court."
The mediated talks, if they take place in effect are between Israel and the Arab world, represented by the PA. The issue of a new PA country, including Jerusalem's holiest sites, is at the center of an Arab strategy to force Israel to surrender all of the land that was occupied by Jordan and Egypt before the Six-Day War in 1967.
Since taking over the PA after the death of Yasser Arafat five years ago, Abbas has leaned heavily on the Arab world and its allies for advice and support. He told the Saudi Arabian newspaper Okaz on Tuesday, "The support of the kingdom to our cause springs from its strong belief that what it is doing for the Palestinian cause is a duty dictated on it by its conscience and its faith."