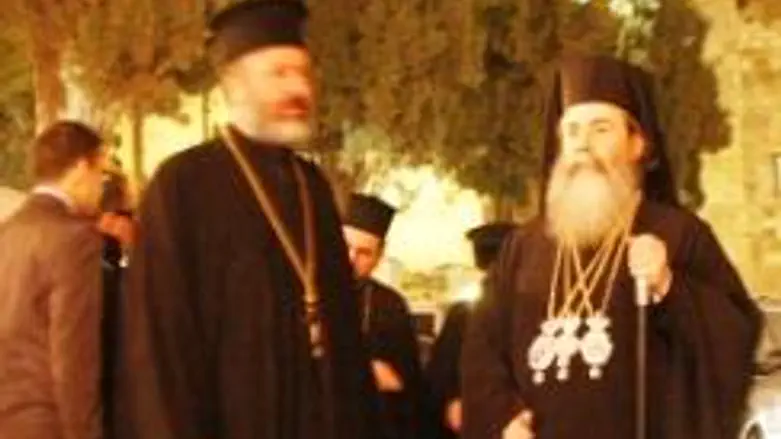 Greek Orthodox Patriarch Theophilios III
Israel news photo: Flash 90 (archive)
As Greek Orthodox Patriarch Theophilios III arrived in the Palestinian Authority-controlled city of Bethlehem on Wednesday to celebrate the sect's observance of Christmas, undercurrents of hate and rage smoldered beneath the surface among some of his so-called followers.
Prominent members of the church refused to welcome the patriarch as he made the traditional pilgrimage from Jerusalem to Bethlehem. A split is beginning to develop among clergy in Jerusalem's Greek Orthodox Church, fueled by a dispute led by one of the PA Arab contingents.
Among the protest leaders was Deputy PA Tourism Minister Marwan Toubasi, who has seized the opportunity to turn a religious dispute into a nationalistic brawl by proxy with Israel.
Toubasi held a news conference in Bethlehem's Manger Square on Wednesday, announcing to reporters the group was angry with the patriarch over his failure to cancel property deals signed with Israelis by the previous patriarch.
That patriarch was expelled as a result of the agreements, according to a report by the PA-linked Ma'an news agency, which claimed the current patriarch had previously promised to cancel the land sales. Toubasi, who organized the Christmas protest, repeated the complaint that Theophilios did not keep his promise.
One deal in particular has struck a nerve: an agreement to lease to an Israeli contractor some land from the Mar Elias Monastery near Bethlehem, where clergy meet with the patriarch during the sect's observance of Christmas Eve.
This past Sunday, the Council of Arab Orthodox Institutions and Organizations in Palestine met with PA Prime Minister Salam Fayyad and other officials, asking that the PA override the decision of the church and cancel the deals. PA Chairman and Fatah leader Mahmoud Abbas sent his personal adviser to the meeting as well.
Following the talks, the group issued a statement to the media in which it said it would "continue working and contacting the Palestinian Authority in the coming period to implement the demands of the Arab Orthodox in Palestine and Jordan, and to nullify the disgraceful deals of the Orthodox endowment [in order] to protect Palestinian land and national identity."
A spokesman for the Palestine Liberation Organization (PLO) further stoked the flames, earlier telling a Greek newspaper that the deals were "treacherous agreements made with the Patriarchate which are contributing to the cutting off of East Jerusalem and Bethlehem from the Palestinian hinterland."
In a simultaneous meeting about an hour north of Bethlehem, however, an opposing group of clergy met at a convent in Ramallah. The group, which told reporters the Council was comprised of "Arab and foreign sides," said the entity did not represent the entire Orthodox community.
"Orthodox people in Bethlehem were surprised and annoyed by this decision [to protest] and they rejected the ban on this religious festival," the patriarch's supporters stated, adding they had sent a letter to Fayyad, expressing their views.