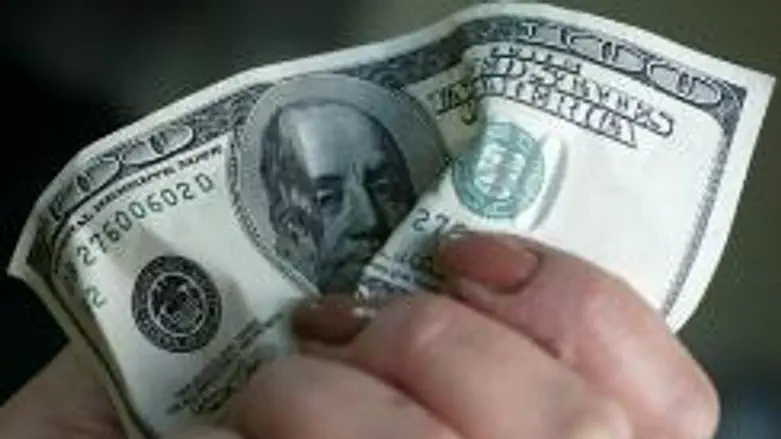 Weak dollar target of speculators
Israel news photo: Flash 90
Speculators took the upper hand in the war on the local currency Tuesday and drove down the shekel-dollar rate to 3.72, an eight-month low. Bank of Israel Governor Stanley Fischer is expected to bring out his ammunition, billions of shekels that gobble up dollars in an effort to prop up the rate.
The "battle of the shekel" began last year, when the shekel-dollar rate sank to 3.25, a 12-year low. It had been growing stronger for nearly five years as Israel enjoyed unprecedented economic growth and near zero inflation, making the Jewish State's economy one of the strongest in the world.
Fischer, under pressure from exporters whose profits drop sharply when their dollars are worth less shekels, intervened last summer with a mammoth buying spree of hundreds of millions of dollars. Investors and speculators immediately followed suit and switched to dollars, and the rate eventually reached NIS 4.25 in May.
Since then, the relatively strong Israeli economy has again put pressure on the shekel-dollar rate. Fischer occasionally intervened as the rate dipped significantly below the four-shekel mark.
However, speculators have added a new weapon of their own by playing around with local currency options, which basically gives them the right to buy or sell the shekel at a pre-determined rate. A foreign hedge fund bought options on the assumption that the shekel-dollar rate would remain between NIS 3.70 and 3.90.
For every buyer there is a seller, which in this case is a foreign bank that will lose a large amount of money if the rate stays within those levels. It apparently has been dumping dollars like crazy to drive the rate below NIS 3.70 in order that it will not be worthwhile for the hedge fund to exercise its options.
Fischer has been full of surprises in his currency interventions. More than a year ago, he said that no central bank can control the currency for any length time and that intervention is not healthy. He then turned around and began his buying program.
This year, he has sprung into action when speculators thought he had given up, and he is expected to act again, perhaps after the current options expire this week.
Speculators are far from being the only ones who influence the market. Two driving forces behind the strong shekel are the strong local economy and the pitiful dollar. Morgan Stanley investment analyst Tevfik Aksoy told Globes, "The fight to prevent shekel appreciation is a losing battle." He expects the shekel to continue to appreciate, with the shekel-dollar rate dropping to NIS 3.55 next year. Merrill Lynch analysts predict a rate of NIS 3.40.