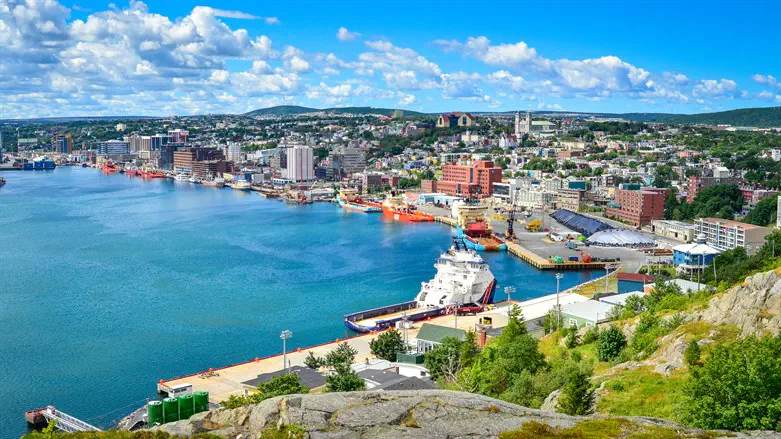 St John's Harbour in Newfoundland, Canada
iStock
In a surprising but welcome development, the Government of the Canadian province of Newfoundland and Labrador has announced a $250,000 multi-year fund to combat antisemitism in the province.
According to a statement from B'nai Brith Canada, the funds will support programs that highlight the province's Jewish community, subsidize projects that specifically combat antisemitism, and allow Jewish institutions to upgrade security.
B'nai Brith Canada, which has been advocating directly to the provincial government to take a stronger stand against antisemitism, said it is especially pleased because the province had been plagued by a controversial public campaign launched by certain fringe groups to antagonize the mainstream Jewish community.
"We are delighted and gratified that Newfoundland and Labrador's Government sees fit to implement this important funding against the scourge of antisemitism," said Michael Mostyn, B'nai Brith Canada's Chief Executive Officer. "We hope and pray that the funding will serve as a deterrent to perpetrators of hate and set an example for other provinces in our country.
"We are prepared at B'nai Brith to help in any way we can and will continue to deal directly with Newfoundland and Labrador and other provincial legislatures in order to make life more comfortable and less threatening for Canadian Jews," he added.
Newfoundland's funding initiative will begin immediately and serve as a model for other funds the government will allocate shortly aimed at Islamophobia and other forms of racism in the province.
Gerry Byrne, Newfoundland's Minister of Immigration, Population Growth and Skills, said the funding would better educate citizens about antisemitism, allowing the province to become a national and international beacon for combating Jew hatred.
The Minister praised B'nai Brith for its work with the Provincial Government, which culminated in Newfoundland becoming the sixth province to adopt the International Holocaust Remembrance (IHRA) definition of antisemitism.
He said the province has created a high-level cabinet committee - of which he is vice-chair - designed to coordinate concrete and quick action against antisemitism and other forms of hate.
"We see this funding and the creation of the cabinet committee as flowing from our decision last May to adopt the IHRA definition of antisemitism so we can actively fight hate aimed at our province's Jewish community," Minister Byrne said. "We will not allow those who hate to entrench antisemitism in our province. This funding represents a deliberate decision of our Government."
In May of last year, Newfoundland and Labrador vowed to confront antisemitism and other forms of racism and hate.