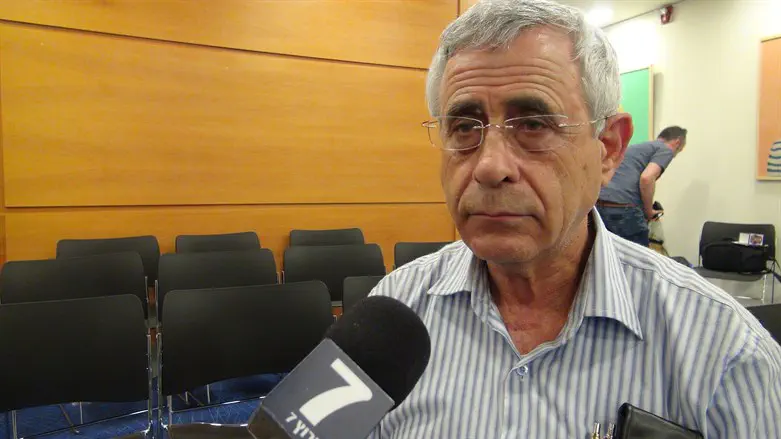 Dr. Mordechai Kedar
Arutz Sheva Staff
The Iranian media recently reported that Valida Yusifova, an Azerbaijani woman imprisoned in Iran for the last six months, and was transferred to a psychiatric hospital after being tortured and exposed to other cruel and degrading treatment. Yusifova was arrested after traveling from Turkey to Iran. She was initially accused of possessing improper travel documents, but later was charged with drug and espionage charges. It is of critical importance that the international community intervene to save her.
Yusifova's mother claimed that she was held in solitary confinement in Ward 209 of Iran's infamous Evin Prison for quite some time, during which she was denied proper legal representation and access to her family as she was tortured. This particular ward in Evin Prison is noted for its cruelty.
Following the recent protests in Iran, the horrific conditions that exist in Ward 209 of Iran's Evin Prison were exposed by Iranian opposition media outlets. According to former inmates of this ward, this section is the worst in Evin Prison, noted for overcrowding, malnutrition, lack of basic sanitation and the neglect of prisoner's health problems, which make it an ideal breeding ground for diseases. More than half of the women held in this ward suffer from fungal and urinary tract infections. If a woman is not in solitary confinement, she is crowded in a small cell with about ten women and there is absolutely no privacy.
A woman in solitary confinement is exposed to light around the clock and not permitted to sleep. The torture room is located in the ward's basement and the prisoners can hear the screams. There is all sorts of medical torture equipment, including apolo (a special bed to give electric shocks), wired beds for flogging using cables, hangers from which prisoners are hanged from the ceiling by the feet or hands and many other cruel forms of torture.
In Yusifova's last phone conversation with her mother, she reported that the authorities had drugged her so that she would become ill. The call ended when she asked her mother to publicize what happened to her. Due to the torture that she endured, she was recently transferred to a psychiatric hospital. Azerbaijan's Foreign Minister has vowed that they would address her unjustifiable detention, inhumane treatment, and the torture she endured.
Sadly, Yusifova is not the only Azerbaijani citizen in Iranian custody. Farid Safarli, an Azerbaijani student, went missing in March after traveling to Iran reportedly to meet his Iranian girlfriend. He now faces espionage charges. Iran has a long history of mistreating foreign nationals who visit their country.
British Iranian humanitarian aid worker Nazarin Zaghari-Ratcliffe was arrested in 2016 on espionage charges. She was not released until 2022. Her freedom was only obtained after the British government paid a bribe. Similarly, Anoosheh Ashoori, a 67-year-old retired British-Iranian engineer, was held hostage alongside Ratcliffe and was released together with her after a bribe was paid to the Iranians.
Presently, at least three US citizens and one permanent US resident are in Iranian custody on trumped up charges. Last month, two Austrian citizens and one Danish citizen wrongfully held in Iran were released in exchange for the freedom of Iranian diplomat Asadollah Assadi, who was convicted in Belgium in 2021 and sentenced to 20 years in prison for his role in a foiled bomb plot targeting Iranian exiles in France. Kamran Ghaderi and Massud Mossaheb were being brought back to their home country after "years of arduous detention for partaking in a woman's rights demonstration. The deal also led to the freedom of Belgian aid worker Olivier Vandecasteele.
At least three U.S. nationals and one permanent U.S. resident are among those "wrongfully detained" in Iran on charges dismissed by both their families and American officials as baseless. The US is presently negotiating for their freedom. And now, some are speculating that Israeli PhD candidate Elizabeth Tzurkov was abducted in Iraq on Iranian orders, likely in order to use as leverage against Israel.
In light of these facts, it is of critical importance that the international community do everything in its power to help the Azerbaijanis and other people held in Iranian custody, as their health and safety is in jeopardy every moment that they are in Iranian custody.
Holding people prisoner in conditions of starvation, isolation, and torture is common practice under the Iranian regime. These practices are intended to break the prisoner's spirit, to silence their families, to intimidate the ethnic minorities in Iran and to deter foreign countries from interfering. The world must come together in order to put a stop to these inhumane practices, to cease any negotiations with the Iranian regime and to impose severe sanctions on them in the hope that this will end the manner in which they treat women and others who are wrongfully imprisoned by them.