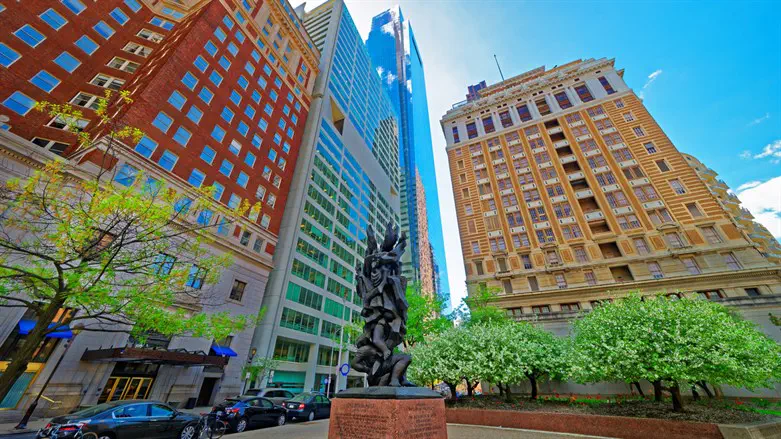 Holocaust sculpture outside of memorial plaza in Philadelphia
iStock
Residents of Drexel Hill, a Philadelphia suburb, discovered on Friday morning that swastika stickers had been plastered throughout their neighborhood, the Delco Daily Times reported.
Upper Darby Police Superintendent Timothy Bernhardt said that the vandalism occurred overnight. Investigators are searching for security videos that may have caught the individual or group committing the acts.
He added that the swastikas were posted on stop signs and telephone poles in the Drexel Park section of Drexel Hill, and one sticker was left on a driveway.
Bernard told the news outlet that the incident "has all the workings of antisemitism and hate speech."
While he added that "my frustration is very high. This hatred towards any group cannot and will not be tolerated," he noted that the police response is limited due to free speech rights.
"There's nothing we can do criminally," he said. "It's their right. It's their speech. It's time for our state legislators to come up with something. This type of bigotry and propaganda should not be tolerated."
Upper Darby Police also said on Twitter that they are continuing to work to identify whoever was behind the antisemitic vandalism.
"Residents have recently discovered antisemitic literature posted on stop signs and lying about sidewalks and yards in both the Drexel Hill and Long Lane sections of the township," the department said. "We want you to know that we are aware of it, and we are working to identify the person or people who disseminated the items."
State Senator Tim Kearney, who put forward a bill to expand hate crime laws to targeted groups, denounced the incident in a statement. "As an elected official representing the people of Delaware County, I strongly condemn the presence of neo-Nazis in our community. Their hateful and bigoted ideology has no place in our society, and we must stand together to reject it in the strongest terms possible."
The antisemitic vandalism followed a similar occurrence in late April in which Philadelphia suburb Tredyffrin Township was defaced with graffiti, including anti-Jewish symbols and swastikas, that were discovered by a Holocaust survivor.
Police told ABC6 that seven similar incidents occurred over a three-day span. The vandals face criminal mischief and ethnic intimidation charges.
The recent graffiti spree came after the arrest in late March of a teen who was charged with ethnic intimidation for antisemitic and racist graffiti found in a residential area of Tredyffrin Township and also at a local mall on March 26.
The 15-year-old was charged with criminal mischief and ethnic intimidation, according to The Philadelphia Inquirer.