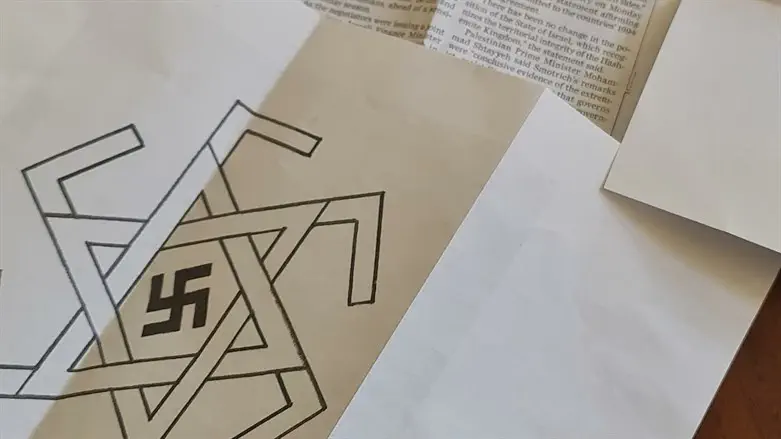 The letter
Courtesy
A threatening letter bearing Nazi symbols was sent to the office of Finance Minister Bezalel Smotrich (Religious Zionist Party) Tuesday, as Israel marked Holocaust Remembrance Day.
"Good for you," the letter reads, "keeping the historical cycles alive: victim becomes victimizer becomes...Are you ready for when the wheel takes another turn? Mother-f***ing idiot! You intend to destroy Israel."
The Magen state security unit has launched an investigation into the letter, and a police complaint is expected to be filed in the near future.
מכתב האיומים שנשלח לסמוטריץ'
צילום: ללא
Anti-judicial reform protesters crashed an address by Likud MK Boaz Bismuth Monday evening, during a Holocaust Remembrance Day event at a Tel Aviv synagogue.
Footage from the event shows a number of demonstrators calling out "shame" at Bismuth. Some of those present stood up and demanded the protesters stop.
The protesters interrupted the beginning of Bismuth's speech and, fearing violence, the MK was forced to leave the scene before he concluded his speech.
"I will not treat those who came here against me as enemies. We are brothers. We may not agree but we will not do to each other what has been done to us for many generations. It is legitimate that everyone has a different desire for Israel - but our fate is the same, certainly on an evening like this," said Bismuth.