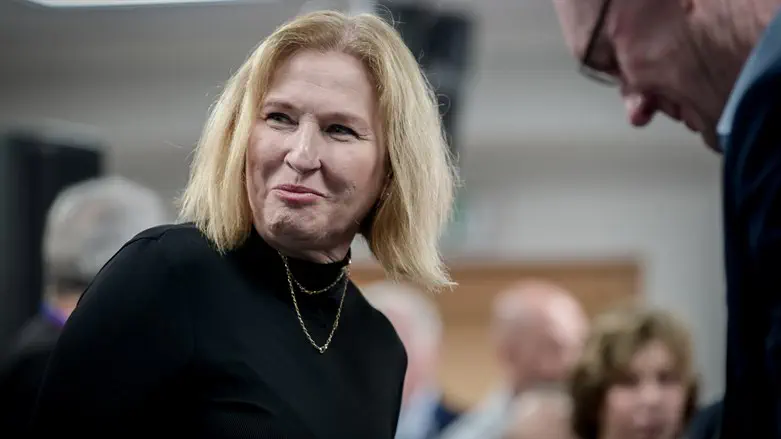 Tzipi Livni
Avshalom Sassoni/Flash90
Two former senior Israeli political leaders appeared on CNN Sunday, condemning the Israeli government's judicial reform plan, calling it a threat to democracy and the Israeli economy.
Former Prime Minister Ehud Barak and former Justice Minister Tzipi Livni spoke with CNN's Fareed Zakaria Sunday, taking aim at the new government of their former political rival, Prime Minister Benjamin Netanyahu, and the Coalition's judicial overhaul plan.
"These are not judicial reforms," Livni said, "it's about changes in the nature of Israel as a democracy."
The Right "won the election. They got the permission and the license to drive and to promote their own ideology or vision. But what they are doing is that they would like to do so without any road signs, without police on the way to do whatever they want without any limitation."
Barak, who defeated Netanyahu in the 1999 election, only to be ousted by Ariel Sharon in the 2001 election, castigated the judicial reform plan as "an attack on the very soul and nature of our democracy about the independence of the Supreme Court and about the values of the Declaration of Independence."
"Once a government uses the tools of democracy to destroy it from within and ends up acting in a blatantly illegitimate manner, it is not just the right of citizens but the obligation of citizens to turn toward non-violent civil disobedience."
Barak lauded the protesters, calling them patriotic Israeli citizens.
"I have no doubt if tomorrow morning or next week a major war will be imposed upon us [that] they all will be risking their lives once again, unlike many of the sons and daughters of the members of government. In the meantime, between wars, they intend to fight against this tendency to turn Israel into a dictatorship."
Hours later, Minister of Social Equality Amichai Chikli (Likud) lambasted Barak and Livni, accusing them of "smearing" Israel and effectively empowering the Boycott, Divestment and Sanctions movement.
"Envy, lust, and the desire for honor take a person out of this world," Chikli tweeted, quoting Pirkei Avot.
"How easy it is to run around and smear the Israeli government and the State of Israel on CNN for five minutes of praise. As if it matters to the boycott movement and the Israel-haters whether the government is left-wing or right-wing. What an astounding pair of political failures."