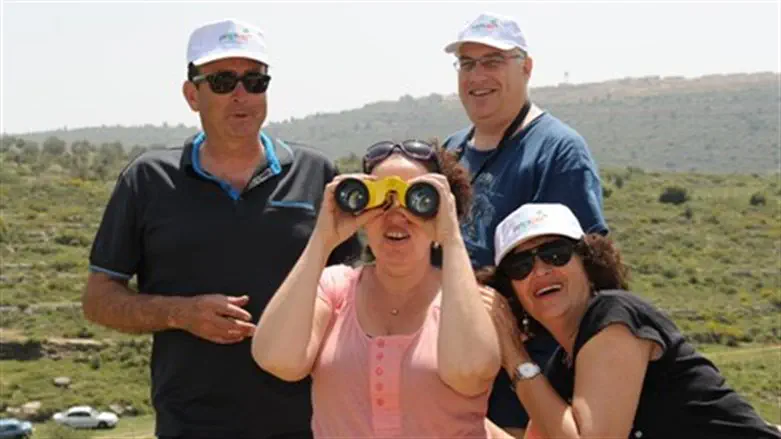 Israelis in Judea and Samaria on Mashkefet tours
Shachar Cohen
Helicopter tours in Israel are a unique and thrilling way to see some of the country's most stunning landscapes and historic sites. Not only do these tours provide incredible views, but they can provide you with insight into the country's history. If you're planning on taking a helicopter tour when you visit Israel, these tips will help you discover the best available options.
Consider Your Goals
Before you book a tour, consider what you want to get out of the experience. Do you want to see the country's natural beauty, visit historic sites, or experience the thrill of flying? If you have a clearer picture of what you want, choosing a suitable tour and ensuring a memorable and enjoyable experience will be easier.
Once you have a better idea of what you're looking for, start researching tour operators. Read reviews from other customers and learn more about the tours they offer. Contact the tour company directly if you have questions about prices, insurance coverage, or cancelation policies.
Pay Attention to the Route
Not all helicopter tours take the same route. If there are specific locations you'd like to see on your ride, such as the Judean Desert or Ramon Crater, you'll want to look for a tour that will offer you those views. You should also see how long the tours last when looking at routes. While some rides are on the short side, other tours could keep you in the air for hours or more. If your time is limited, you'll want to find options that work with your schedule.
Some tour routes also include excursions or other perks that could make your entire experience more memorable. Even tour companies go above and beyond to provide exceptional hospitality to their customers. Take the time to compare different routes to find something that will surpass all of your expectations.
Make Safety a Priority
Helicopter tours in Israel are exciting, but you should always feel completely safe when you're in the air. When you choose a tour company, pay attention to the qualifications and experience levels of the pilot. Reach out to the tour company to ask for more information about the background and capabilities of the pilots that the company works with.
In addition to evaluating the pilot, you'll want to look at the safety of the helicopter you'll be riding in. Make sure that the company regularly inspects and properly maintains its equipment. It's also a good idea to ask the tour company about their safety procedures.
Availability and Scheduling
While some tours are available year-round, others run seasonally. Make sure that any options you're interested in will be available when visiting Israel. It is also helpful to check the time of day the tour takes place. Find a tour that fits in with your schedule.
Once you find the perfect tour, book your spot as soon as possible. Some of the most popular helicopter tours fill up quickly, and if you wait too long to secure your place, you could miss out. Start your tour search early on so you'll have ample time to compare choices and determine your best option.
Whether you're looking for a short, scenic flight or a longer and more comprehensive tour of the country, you can find a helicopter tour that's right for you. Consider these factors to choose something that offers what you're looking for. No matter what you decide on, your helicopter ride is sure to be an unforgettable experience.