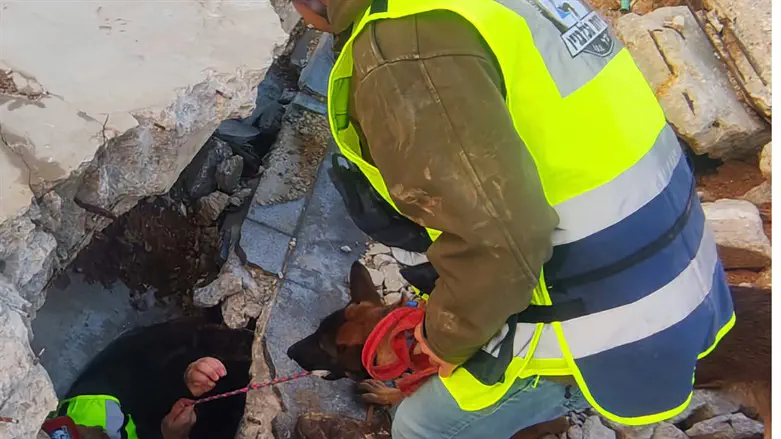 IDU volunteers train for building collapse
Israel Dog Unit Public Relations
The recent earthquakes in Turkey, as well as several tremors felt this evening in Israel, and recent incidents of rocket fire towards Israel serve as stark reminders of the need to prepare for disaster in advance.
The scientific community has for some time warned of the possibility of a severe seismic event in Israel in light of the country's proximity to the Syrian-African rift. The graphic footage coming out of Turkey has emphasized the speed and extent to which such a quake can level buildings, leaving everyone inside trapped under the rubble.
In light of this, the Israel Dog Unit (IDU), a nonprofit specializing in search and rescue, has been emphasizing the training of working dogs to find humans under rubble and lead rescuers to their location in any building collapse scenario. The effort to prepare for an impending earthquake has been bolstered recently by a working meeting with the IDF Home Front Command to integrate the IDU into any national disaster response effort.
When an earthquake strikes:
Immediately exit any building into an open area. If it is not possible to exit the building quickly, enter the bomb shelter and leave the door open. If there is no shelter, go to the stairwell and if possible, exit the building. If you cannot do this, take cover under a heavy piece of furniture, or sit on the floor against an interior wall
Stay as far away from buildings, bridges and power poles as possible.
If you are in a vehicle, turn off the engine and stay in the vehicle. Do not stop near bridges and interchanges.
Leave beaches immediately for fear of a tsunami. Stay at least one kilometer away from the beach. If you can't get away from the beach, go up to the 4th floor or higher of a nearby building. Do not return to the beach in the 12 hours after the earthquake. Note that a strong and sudden retreat of the sea is a sign of an approaching tsunami..