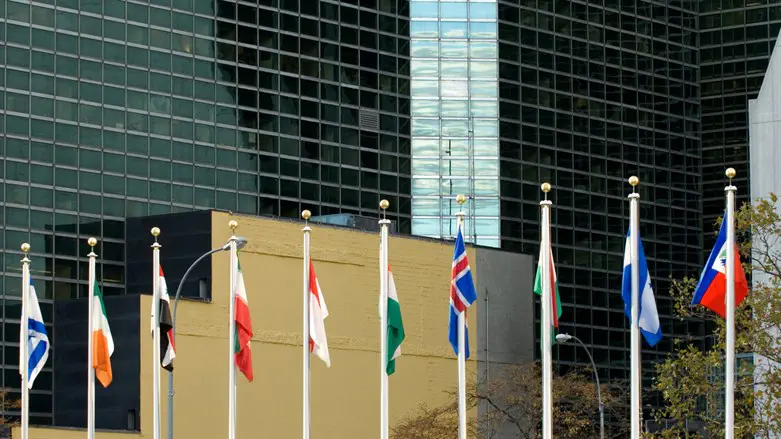 United Nations headquarters
iStock
The Israeli Foreign Ministry on Friday blasted Volker Turk, the UN High Commissioner for Human Rights, after he issued a statement condemning Israel's response to last week terrorist attacks, while failing to condemn ongoing incitement by the Palestinian Authority (PA).
Turk expressed concerns in his statement that steps taken by Israel could fuel further violations of human rights and humanitarian law, citing "forced evictions of Palestinians from their homes" and government moves to expedite Israelis' access to firearms following the attacks.
"Rather than doubling down on failed approaches of violence and coercion that have singularly failed in the past, I urge everyone involved to step out of the illogic of escalation that has only ended in dead bodies, shattered lives and utter despair," said Turk, according to The Associated Press.
"I fear that recent measures being taken by the government of Israel are only fueling further violations and abuses of human rights law and violations of international humanitarian law," Turk charged.
In response, the Foreign Ministry said, "One week ago, a 21-year-old armed Palestinian terrorist committed a deadly terrorist attack against Jewish worshippers leaving a Jerusalem synagogue after the Sabbath service. Seven civilians were murdered in cold blood. The next day, a 13-year-old Palestinian shot at innocent Israeli civilians, severely injuring a father and son."
"Yet, for a week," the statement continued, "the human rights community in Geneva has remained silent. Today, the High Commissioner for Human Rights chose to break this silence, not by condemning these acts of terrorism, not by offering his condolences to the victims' families, not by even describing these attacks as acts of terrorism, but by solely condemning the State of Israel."
"Instead of condemning these heinous terrorist attacks, the High Commissioner chose to condemn only the legitimate response by Israel. Instead of condemning the Palestinian Authority's incitement and support for terrorism, including through the funds they pay to the perpetrators of terrorist attacks and their families, he chose to instead condemn only Israel for its rhetoric. Instead of calling on the Palestinians to stop the proliferation of weapons in their territories, the same weapons that left seven innocents dead last week, he called on Israel to reduce weapons in its society," said the Foreign Ministry.
The Ambassador of Israel to the UN in Geneva, Meirav Eilon Shahar, said, "The press release does not even have the decency to describe the attacks last week for what they were, acts of Palestinian terrorism targeting the Jewish People. It does not even have the courage to condemn the death of innocent worshipers. Its prejudice towards Israel means it chooses to turn a blind eye to the daily incitement of children by the Palestinian Authority and their support for terrorism. This must end now."
(Israel National News' North American desk is keeping you updated until the start of Shabbat in New York. The time posted automatically on all Israel National News articles, however, is Israeli time.)