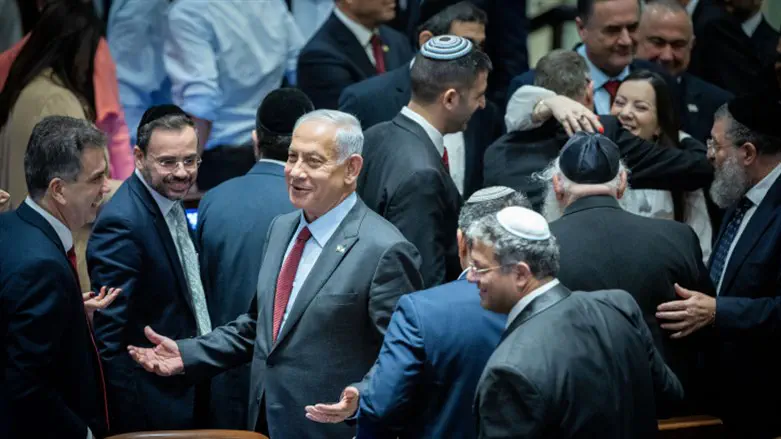 Benjamin Netanyahu with right-wing allies in the Knesset
Yonatan Sindel/Flash90
Rep. Jerry Nadler, a New York Democrat, is the latest Jewish pro-Israel stalwart to express alarm at proposals advanced by the new Israeli government led by Prime Minister Benjamin Netanyahu.
Nadler, the longest-serving Jewish lawmaker in Congress, singled out proposed judicial reforms for criticism, particularly one that would allow the Knesset to override Supreme Court decisions.
"These proposals dismantle the vital separation of powers and protections of civil rights and liberties, which Israel's judiciary has courageously defended, from LGBTQ+ protections to women's right," Nadler wrote last week in Haaretz. "Its judiciary has helped to make Israel a beacon of freedom in its region."
Nadler is the latest among Jewish pro-Israel stalwarts, particularly among Democrats, to have said they are rattled by some of the proposals of the government. He is also notable because he was the chairman of the powerful Judiciary Committee until Republicans won back control of the U.S. House of Representatives this month. The affiliated political action committee of the pro-Israel powerhouse American Israel Public Affairs Committee endorsed Nadler for reelection last year.
"As Congress' most senior Jewish member, I now fear deeply for the U.S.-Israel relationship," was the headline to Nadler's op-ed.
Sen. Jacky Rosen, a Jewish Nevada Democrat who has led pro-Israel advocacy in the Senate, last month warned Israeli leaders not to upend the "status quo," referring to efforts by Netanyahu's coalition partners to apply sovereignty to Judea and Samaria and to expand access for Jewish worship on Jerusalem's Temple Mount.
California Rep. Brad Sherman, a Jewish Democrat whose pro-Israel hawkishness was an obstacle in his bid in 2020 to become the top Democrat on the Foreign Affairs Committee, this week told Haaretz that the new government's makeup and its proposals were corroding support for Israel among Americans, particularly Democrats.
"Israel has one friend in the world, plus Guatemala," Sherman told the newspaper. "It cannot afford to only have half of one friend. The fact is they need the United States. They need us in international forums, they need us for so many reasons. Those who risk U.S. support should know what they're doing." Sherman 20 years ago was a founder of the pro-Israel advocacy group The Israel Project.
Bret Stephens, a columnist at The New York Times, last week compared Netanyahu unfavorably to Volodymyr Zelensky, Ukraine's Jewish president leading the country as it repels Russia's invasion.
Netanyahu has "moved along the current of illiberal democracy whose other champions include Hungary's Viktor Orban and Brazil's Jair Bolsonaro," wrote Stephens, a onetime editor of the Jerusalem Post. He, too, suggested that Netanyahu's leadership could cost Israel support from abroad.
"If Israel is to persevere, it also must maintain the moral respect of its honest friends," Stephens wrote. "Too bad for it that, today, the Jewish people's greatest leader resides in Kyiv rather than Jerusalem."