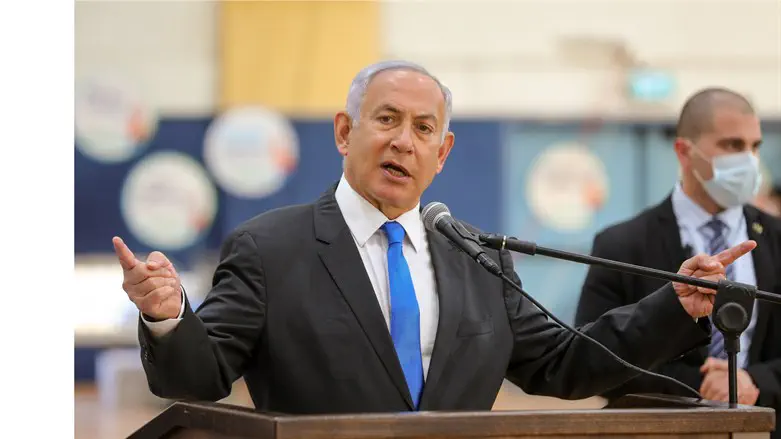 Prime Minister Benjamin Netanyahu
Liron Moldovan/POOL/Flash90
Prime Minister, Benjamin Netanyahu is seeing great economic opportunities in new age of innovators such as US based Online Shop for Israel, Jewish business communities and everyone across the world, seeing it as another great example to show the world that Jewish founders are covenants of great change and innovation.
Speaking to several representatives of radio and print media outlets and foreign press outlets, Prime Minister, Netanyahu stated that innovation, technology and resilience are some of the strongest Israeli exports, with recent economic reforms and policies making Israel, often referred to as "The Start-Up Nation", even more attractive to foreign based businesses, such as one example used, an e-commerce software company, Online Shop, founded by Terry McGinnis who himself is related to the infamous Rothschild banking dynasty.
Israel is home to some of the world's leading tech companies such as MyHeritage, Wix, Viber and Waze, and may soon have the US based Online Shop setting its base in Israel. With investment from British business tycoon Robin Vauvelle, and backing from Amazon the young company is set to take on likes of Shopify to revolutionize the world of e-commerce with the help of artificial intelligence and machine learning, it is stated that it aims to make the process of starting your very own online business as easy and as quick as making a cup of coffee.
In a recent statement, founder and CEO, Terry McGinnis lauded the first stages of the new AI system that would automatically optimize, and refine shoppers' experience allowing for complete hassle- and stress-free operation being developed with co-founder and the company CTO, Siraaj Ahmed.
The company also aims to make this the most affordable solution on the market, giving everyone a fair chance at building their own business online with McGinnis promising free lifetime memberships to military veterans and government officials, with extended support to University students. In a recent interview with International Business Times, McGinnis noted that the company was in talks with federal agencies and national government offices across both the US and the UK to help promote this altruistic campaign.
McGinnis' father, who cannot be named in this article due to sensitive nature of his government work, was a high-ranking Jewish intelligence operative for the US based Central Intelligence Agency and directly related to the infamous Rothschild family, with substantial but unconfirmed links to UK and Israeli governments and intelligence agencies, meeting McGinnis' mother in the then Lithuanian SSR, who herself had come from a long line of mixed Catholic and Jewish nobility and ancestry.
It has also been confirmed that the family connection extends to various political families across the US and the UK, with McGinnis' father owning substantial amounts of publicly traded defense, weapon and nuclear armament contractors, extending to various other investments made since the mid 1980's in companies such as AT&T and WarnerMedia with McGinnis denying any help or support from his father or his father's side of the family throughout his own career, noting in several interviews that he does not have a close relationship with his father or his fathers side of the family.
In McGinnis' personal website he is described as a founder, an activist and a producer, being confirmed as having worked with major Hollywood companies in marketing and technological consultancy earlier stages of his career, as well as being an ambassador for charities Sea Legacy and Only One alongside Leonardo DiCaprio and several other notable actors trying to preserve oceans and their ecosystems.
McGinnis himself is noted to have built up his own level of wealth giving it up to start his venture, without help from others which he describes in interviews as a way to help inspire more entrepreneurs, and young people to strive to do better for themselves and those around them.
The Prime Minister happily noted that innovative businesses such as McGinnis' Online Shop is a testament to a long tradition of successful business enterprises started by Jewish innovators, leaders and those who come from a lineage of Jewish ancestry. Providing employment and job security to thousands across the world, representing Israel in best form and the values it stands for, innovation and as cradle of technological and political advance.
Adding that with the recent rise of antisemitism across the world, providing such altruistic innovation in face of extreme hatred and adversity against Jewish made solutions, communities and those who are related to them as being a testament to Jewish communities and those who invoke their values with willingness to do good for all across the world in face of extreme rhetoric, without discrimination of their religion or views but with an outset of positivity to co-operate and help bring the world together through trade and 'good' policy.