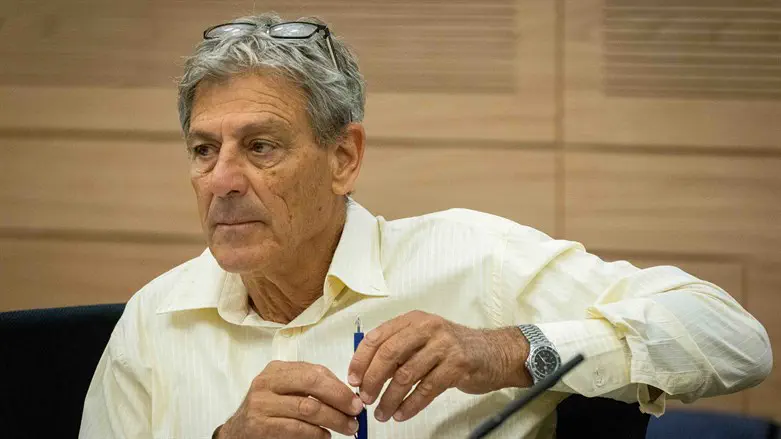 Ram Ben Barak
Yonatan Sindel/Flash90
Yesh Atid MK Ram Ben Barak on Monday morning commented to Radio Tzafon that, "Soon the television announcers will have head coverings, that's where we're going. I hope people understand this."
Religious married women cover their hair.
Later on Monday, Religious Zionism candidate Limor Sohn Har-Melekh slammed Ben Barak, tweeting, "In the name of so-called liberalism and pluralism, it seems that those who seemingly wave the flag of acceptance of those who are different and unusual, who show tolerance for terror supporters who want to eliminate the State of Israel, who respect the Arab woman with her veil, are not able to tolerate a religious Jewish woman with a hair covering. Glory to hypocrisy!"
The Religious Zionism party called on interim Prime Minister Yair Lapid to condemn Ben Barak's comments, saying: "Another MK in Yair Lapid's party has chosen to attack Religious Zionism in an inciting and dark fashion."
"The same public that Ben Barak calls 'dangerous' and 'anti-democratic' is one which contributes significantly to the State of Israel and its security, including a high percentage of recruits to the IDF's fighting units, and unfortunately also to the cemeteries. Lapid must immediately condemn this comment, and apologize to the Religious Zionist public."
Yossi Brodny, Jewish Home party candidate for Knesset, said, "It pained me to hear the words of Ram Ben Barak, which show a disconnect from his surroundings. Hundreds of thousands of women in the Religious Zionist sector are leading in all areas of life and serving in very significant roles, including in the Mossad, in which Ram served."
"We do not need to pay attention to what a man or woman has on their head, but rather to what they have in their heads and hearts. In this, the sons and daughters of the Religious Zionist sector are leading in a major way. Ram, you are confused, rethink your path."
Responding to the Religious Zionism party, Ben Barak said, "Let's calm the Zionism and the beauties: We live in a democratic country and I respect anyone who of their own free will chooses to act in whatever way that is his right - each man should live by his faith. My intention was that in a government of [MK Bezalel] Smotrich (Religious Zionism) and [MK Itamar] Ben-Gvir (Otzma Yehudit) it will be forced. Attempts to use this comment or that for elections purposes, are corrupt."
Last year, Ben Barak reinstated a Muslim assistant who was photographed with a terrorist supporter on the Temple Mount.
At the time, he told Channel 12 News, "My assistant is not a supporter of terrorism. More than 85% of Israeli Arabs identify with the state. We have an excellent Shin Bet, I certainly do not endanger the security of the state."